When the holidays come it's fun to get into the spirit with your accessories, which is why patriotic nail ideas are so much fun when Independence Day comes. It might seem like summer just got started, but it won't be long until we're celebrating our nation's birthday. If you want to get into the spirit of the 4th of the July, try any (or all) of these fantastic patriotic nail art ideas and you'll be the star of the show. You're going to love them all so much you may have trouble deciding which one to try this year. Have fun!
---
1

Metallic, American Flag Inspired Nails

Metallics are perfect for capturing the patriotic essence of these nails but they can wreak havoc with your natural nails if you're not careful.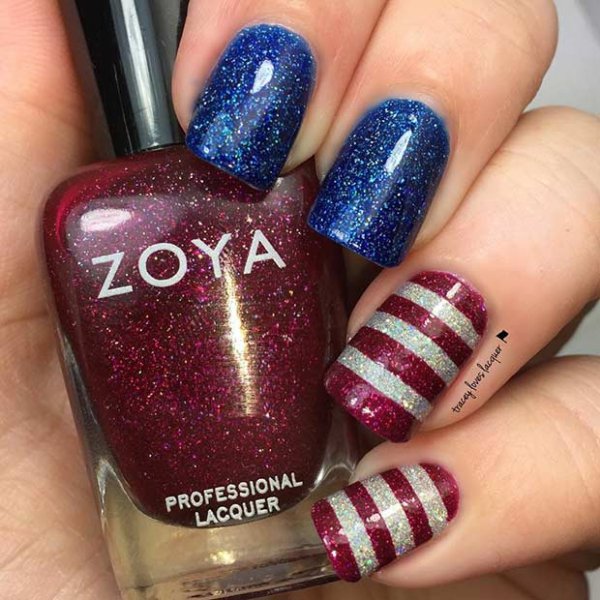 Using glitter over and over again can cause the nails to become starved of oxygen and this will leave them brittle, dry and damaged. In turn, they may break, bend or even flake. To prevent this, add a base coat before adding glitter, and always give your nails time to breathe between manicures every now and again.
---
2

French Tip + American Flag Accent Nail

For something super simple, just make a change to one of your nails. The rest of them can be the natural manicure you'd normally have (the additional glitter along the tip is optional obviously), but one nail gets the patriotic treatment.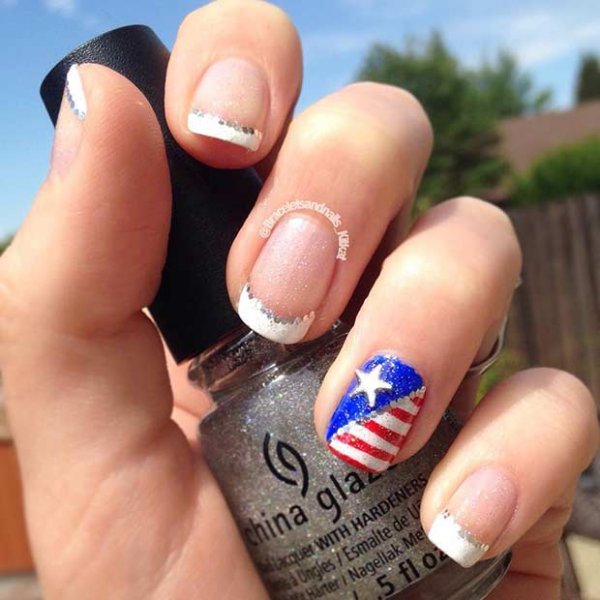 This American flag nail is actually super easy to recreate yourself, and nail pens can make life easier if you're not handy with a nail brush. If all else fails, you could always just opt for nail wraps. They're super simple and super easy to use.
Linda
Where do you find nail pens?...
---
3

Toe Nail Design for the 4th of July

Don't forget about your tootsies! If your 4th July outfit contains scrappy sandals, or the kind of footwear where your toes are on show, you need to make sure your nails match the rest of the outfit otherwise you're just not finished.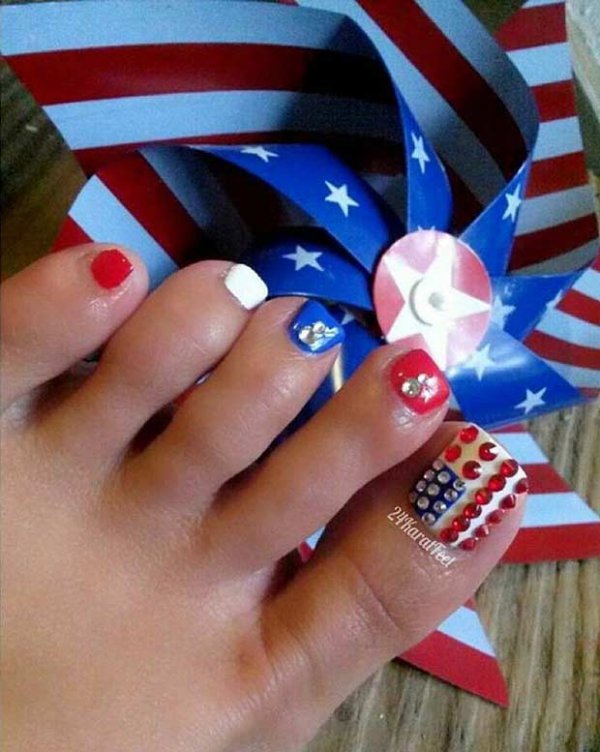 One of the easiest ways to make your toe nails 4th July friendly is to paint them different colors – the colors of the American flag. Red, white and blue are obvious choices, and the rhinestones really help to add some more sparkle to the occasion.
---
4

Cute Nail Art Idea

Technically we're all getting it wrong. If you're to believe the author, Kenneth C. Davis, the real Indepdance Day actually falls on July 2nd but it wasn't until two days later, July 4th, that Jefferson's declaration was accepted by congress.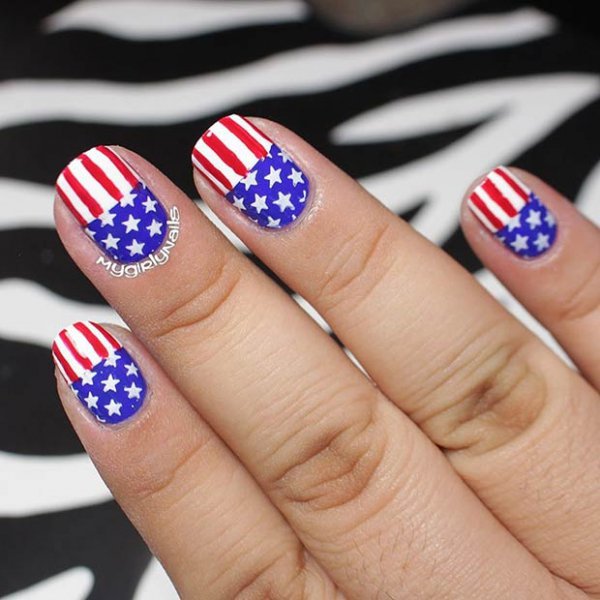 Whatever day it is, we know this much – these amazing patriotic nail ideas for the 4th July are rocking our world. Is it too soon to book a nail appointment?
---
5

Flag Tips with a Pop of Gold

If you normally have colored tips, stay with colored tips but for your 4th July celebrations, add a little patriotic flag to the top with just the right hint of gold to separate the two.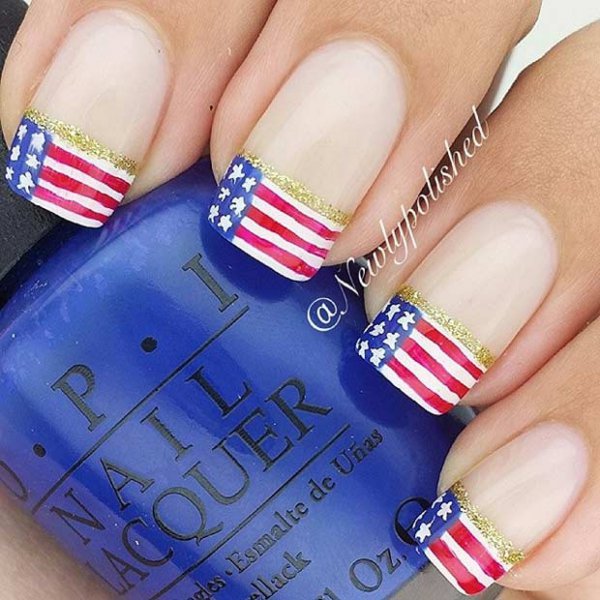 You could easily use the red and blue to go over existing white tips, something that'll make it super quick and easy for you, and you can just remove the color and go back to white tips again when the day is done. Simple!
---
6

Easy Nail Design

America is actually not the only place that Independence Day is celebrated and the reason for this is because so many people from America emigrated to other parts of the globe throughout the years.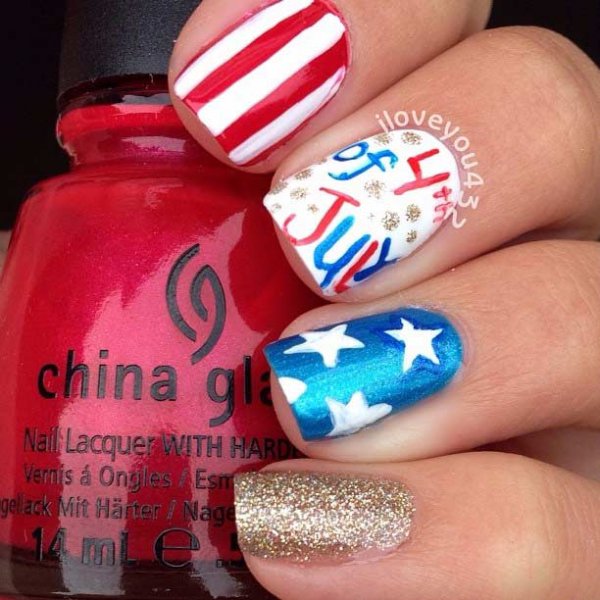 If you happen to spot some cool patriotic nails at the beginning of July in Sweden, Portugal, Norway, Denmark or England, there's a good chance you're standing next to someone with American ancestry.
7

4th of July Nail Design for Long Nails

If you have long nails, you have the perfect base for some of these patriotic nail ideas for the 4th July. You have more space on the nail which gives you more opportunity to play around.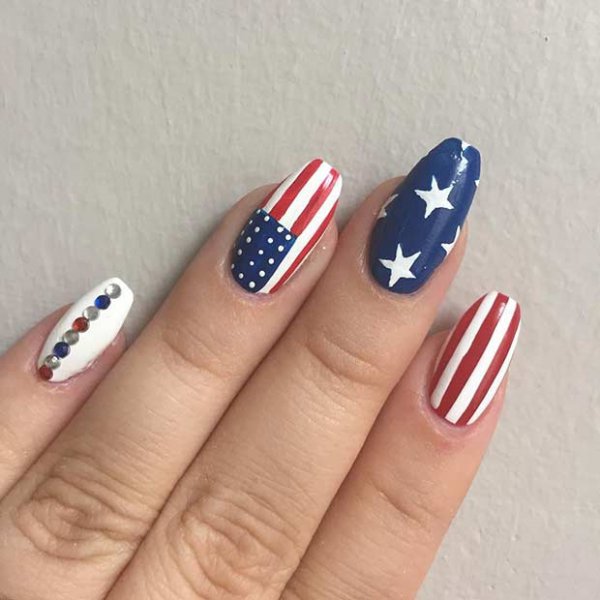 We love that these nails are all slightly different, some with the flag and some with stars and stripes. These could be our favorites. Are they yours?
---
8

Red, White and Blue Nails

Matte nails are very much in right now, and so are textured nails. That's what makes these glittered and textured 4th July nails so perfect.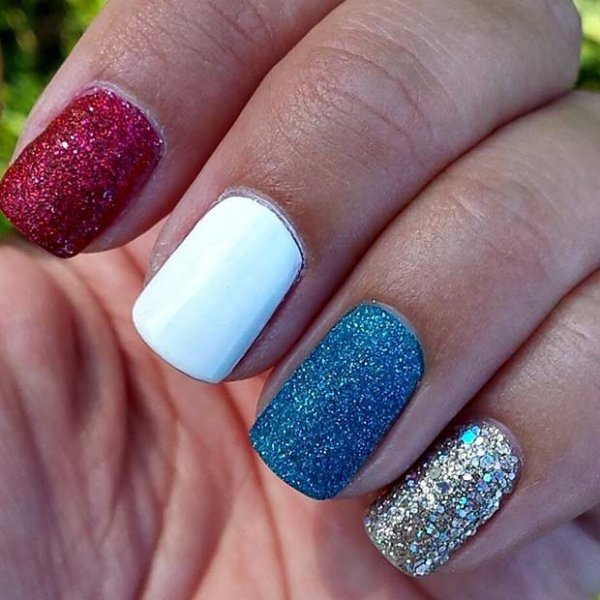 You can use a matte clear polish over the top of your regular colors if you don't want to go out and buy specific red, white and blue glitter.
---
9

Star Nail Design

Embellishments and decals are a great way to cheat when you don't have a steady hand. These stars, for example, would have taken hours to hand paint for most of us, but with a sheet of decals, these nails take just a few moments to recreate.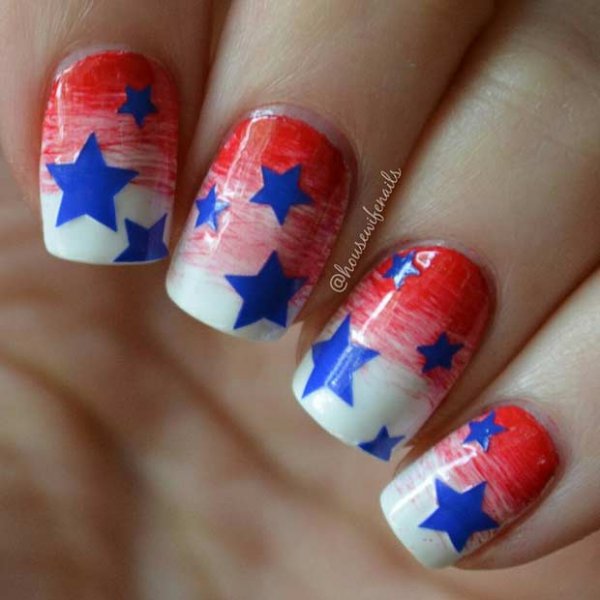 Start with a white base. Using a red nail pen, rather than a brush, flick it across the nail to create this ombre look, and when that red layer has dried, stick your blue star decals or transfers over the top. Make sure you finish it all with a gloss coat and you're good to go.
---
10

Fireworks Nail Design

It was Thomas Jefferson who first held a celebration of sorts to mark the occasion of Independence Day at the White House.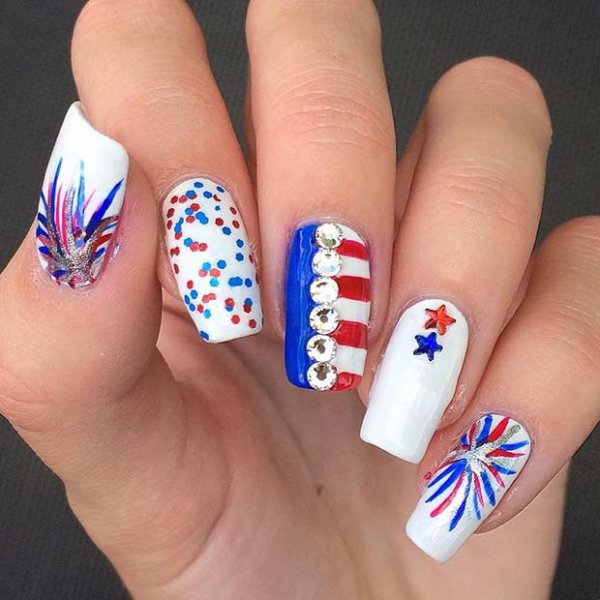 If you're planning on celebrating yourself, don't forget your hands – these patriotic nail ideas for the 4th July will work perfectly.
---
11

Stars and Stripes Toe Nail Design

If you can't fit the stars and stripes on one nail, for example – your toenails, why not separate them, different bits for different nails?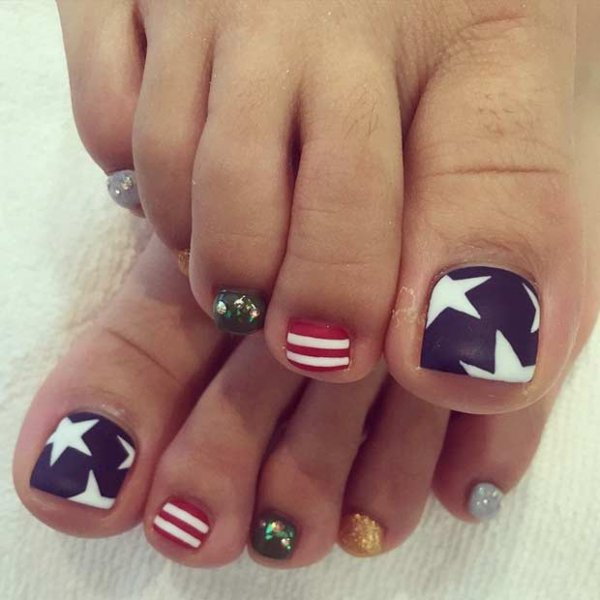 We love that some are plain colored nails and some have stars or stripes, and we also love the way that this could be completely customized to make them more unique for you. Big win for these – you could easily use a stencil to get those big white stars.
---
12

Polka Dot Nails

Dotticure is a great new mani-method that gives you a brand new way to achieve some pretty fantastic effects. We love the way that the tiny dots have been used here to recreate the American flag – red, white and blue.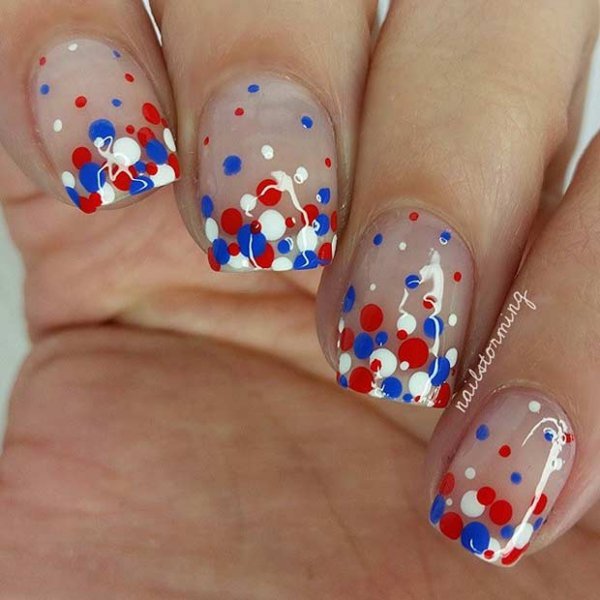 It's easy to recreate this look – you could use anything to create those dots. Make them all the same size, or different sizes, by using different tools. You can buy nail dotting tools, or you could even use the edge of a large seeing needle, a kirby grip, and more.
---
13

Glittery Nails

The oldest 4th July celebration started in 1785 in Rhode Island, Bristol to be exact. If you want to celebrate in style (and show off your patriotic nails for the 4th July), you should head here to see the parades, marching bands, and more, all traditional in celebrating Independence Day.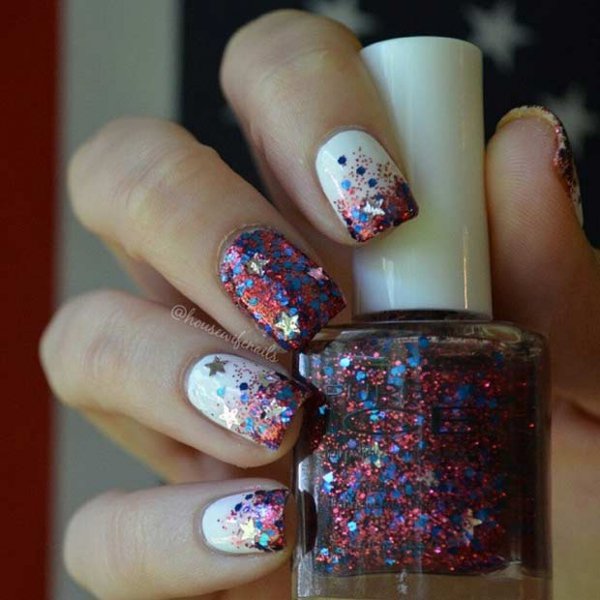 Another hot tradition for 4th July is a BBQ, so why not invite the entire family around to give you the perfect opportunity to show off your brand new nails?
---
14

Stripes and Stars with a Pop of Glitter

We love these ones, in perfect patriotic keeping with the occasion. It almost makes us want to walk around singing "My, my Miss American Pie"!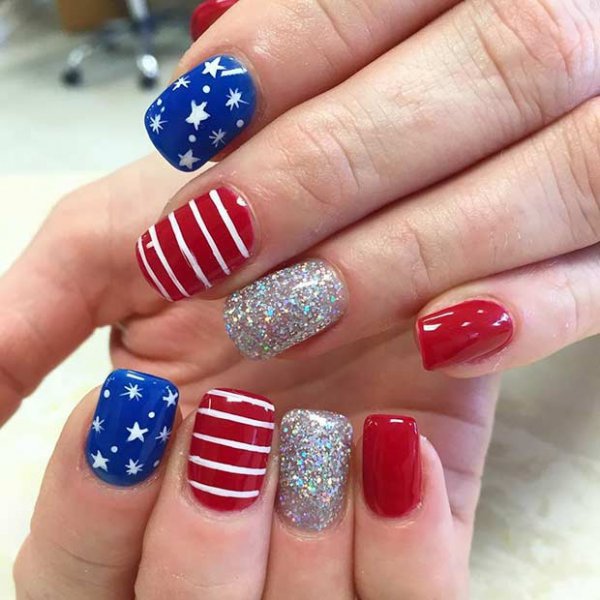 This is a great and simple way to work in some red, white and blue for your Independence Day celebrations. We especially like the silver glitter feature nail – a great way to add some sparkle to the occasion.
---
15

Simple Design for Short Nails

Just because you have short nails doesn't mean you can't rock some super sassy 4th July patriotic ones. We also love the fact that these nails haven't gone with the traditional deep, royal blue color.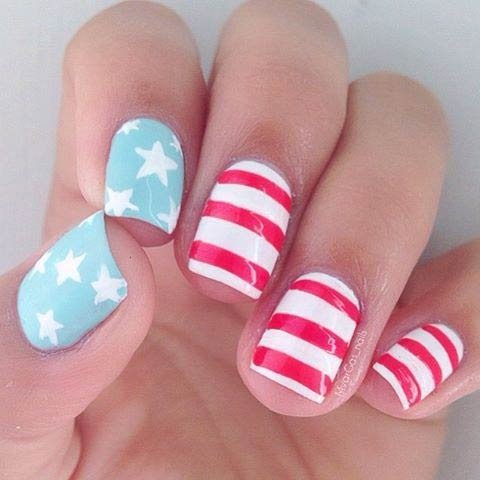 It just goes to show that you don't need to opt for the traditional colors and shades to have the same effect. We love the light blue used in this design, and it's definitely one we'd recreate for ourselves.
---
16

Red & White French Tip + Flag Accent Nails

These patriotic nail ideas for the 4th July are super sassy and super fabulous, a great way of having the good old American flag on your nails without making it too much.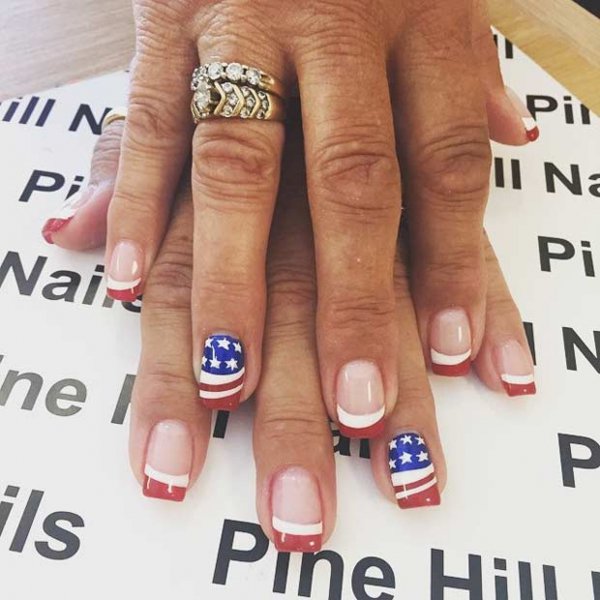 The nails have been kept relatively neutral but with white and red tips, and on the featured nails, more detail has been used to recreate the stars and stripes. Use nail tape to mark off the areas you don't want to paint for nails like this, or head to a salon where they do airbrushing. The design is often neater and easier with airbrushing techniques.
---
17

Eye-Catching Pedicure Design

We've said it before and we'll say it again – don't forget about your toes. One way to get a beautiful look like this with minimal muss and fuss is to use nail wraps – a very clever way of decorating your nails without all the hassle involved.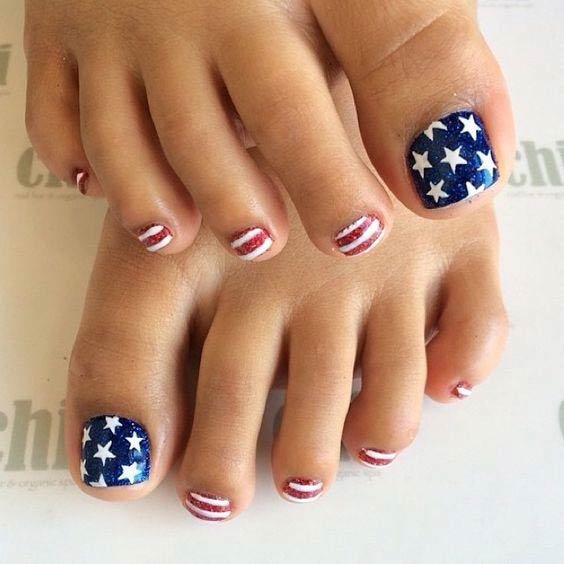 With a wrap, you simple stretch it over your nail, make sure it's secured in place, clean up and cut off any rough edges and once you're done, give a once-over with some glossy top coat to make sure it doesn't get bashed or chipped.
---
18

Cute Disney Nails

If you're looking for more cute than serious, we'd highly recommend these adorable Donald Duck nails, combining two design ideas together – patriotism with the American flag, and Disney with that cute little duck.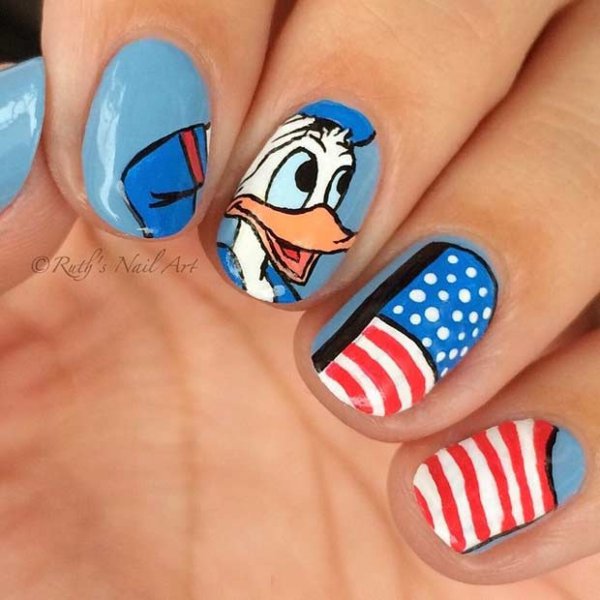 Who said your nails had to be super serious anyway? We love a bit of Disney!
---
19

Cool Ombre Design

What a cool wear to wear your nails for the 4th July? We love the blue ombre look on these nails, completed with those patriotic stars over the top.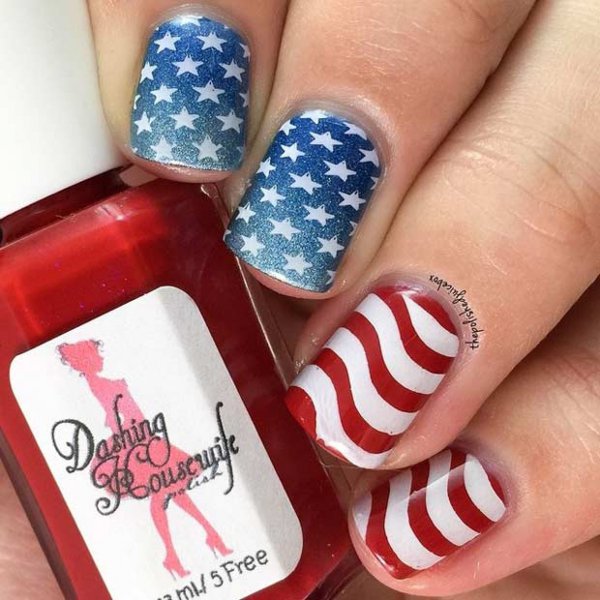 If you want to recreate a look like this, we'd recommend looking for a star stencil but before you do that, create your ombre by using different blue tones painted in stripes on a sponge. When the sponge is pressed to your nail, it should leave an ombre, graduated design which you can then add glitter or shimmer over the top, or leave as it is.
---
20

Easy DIY Design

For an easy DIY design, one that you won't need to wait for an appointment, why not look at these patriotic nail color ideas for the 4th July? The idea is very simple – one-color nails but with a few little additions to make it a little more Independence Day themed.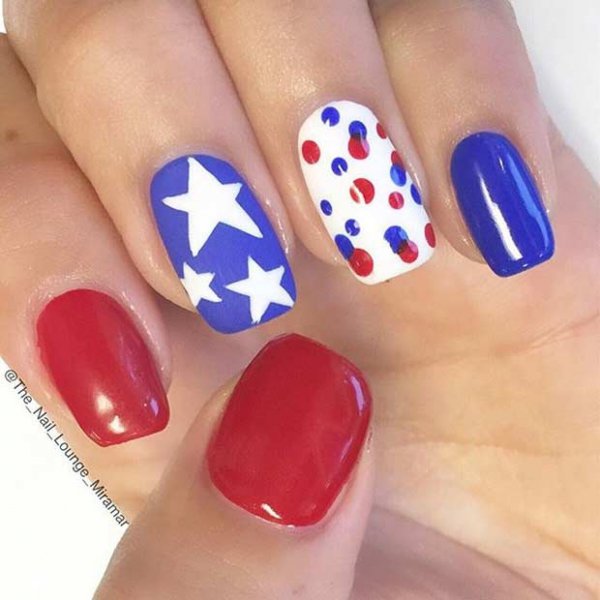 For that matte blue nail, you could use a matte top coat over the same blue as the pinkie finger nail. There's that Dotticure design we mentioned before too. We're predicting this style is going to be a big one. It's time to go dotty!
---
21

Matching Mommy Daughter Nails

How cute is this idea? If you're going to paint your nails, why not paint your daughter's nails too? Or if you're not impressed with the idea of painting your daughters nails, using nail wraps instead.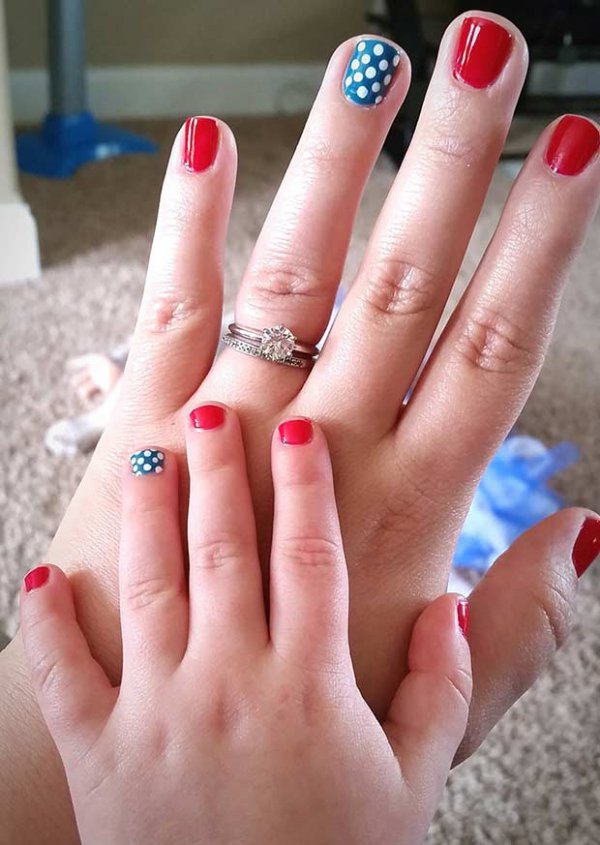 Little girls love to join in on whatever Mommy is doing, so teach her about Independence Day early, and get her involved in the celebrations too.
---
22

3D Star Accent Nail

And for those days when you have barely any time on your hands, leave the nails a simple, one-tone color like this beautiful blue, and use embellishments or rhinestones to create a look over the top.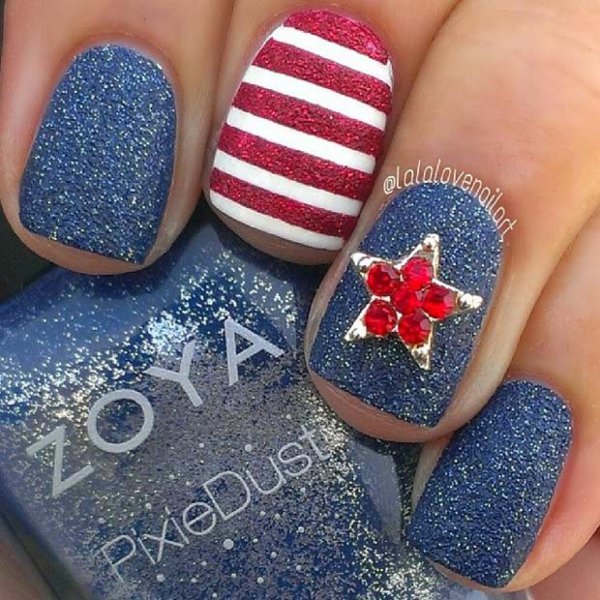 Painting your nails takes forever with the multiple coats, waiting to dry, top coat, etc. If you already have blue nails, or you pre-empt the situation and opt for blue nails when you go to the salon, you could always use these nail accessories to build up the look you want to go for.
---
23

Sparkly Pedicure Design

We simple love the big toe nail on this design, an American flag made up of tiny little dots. Take a closer look – those are metallic silvery / white, red and blue dots in lines to recreate the flag look.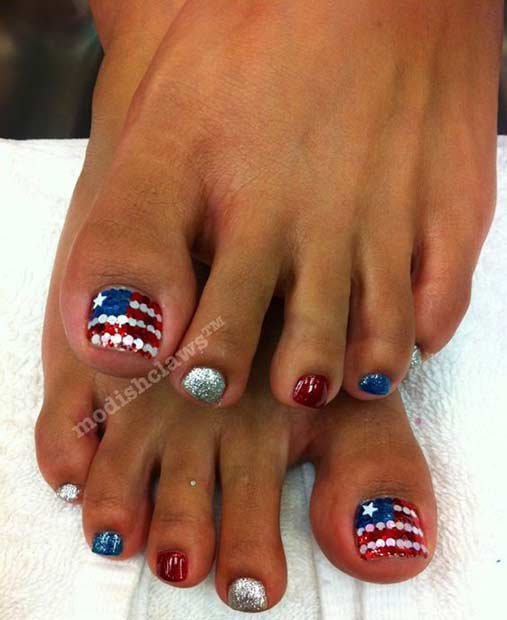 What a great and relatively effortless way to have your 4th July nails? Start with one nail, make it the featured nail, and carry on adding more dots to the other nails if you have time.
---
24

Glittery Red, White, and Blue Nails

Or to keep things as simple as you possible can, have one-tone, one-color nails but each one a different nail. Red, white and blue are obviously great colors to mix and match for this patriotic look, but you could go for different finishes and effects.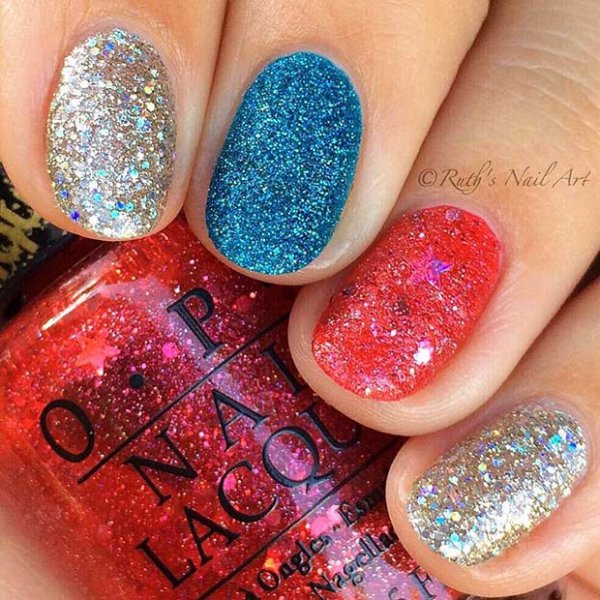 We love these textured nails, a big thing for right now, but you could go matte, glossy, any look you liked in fact. That's the best thing – there are so many ways you can wear some of these fabulous designs.
---
25

French Tip with a Twist

What a fabulous idea? It's not a traditional 4th July nail look but that doesn't mean it won't work. In fact, we quite like these dotty-tipped little numbers, once again not using that traditional blue you would normally expect to find on an Independence day themed look.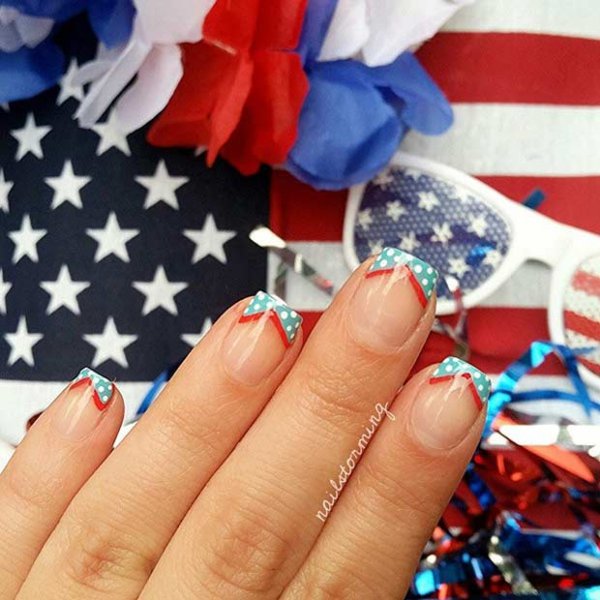 The tip has been made into a chevron shape, which tape can be used to achieve. The white dots have then been added using a dotting tool. Once all that is dry, the red edged-lines have been added, plus a layer of top coat, and what do you have? 4th July nails that don't necessarily look like 4th July – you could get away for wearing these lovelies for weeks after!
---
26

American Flag Inspired Design for Long Nails

There's something really pretty about long nails and although they're not overly practical, they sure help when you want to come up with new and interesting nail designs like these.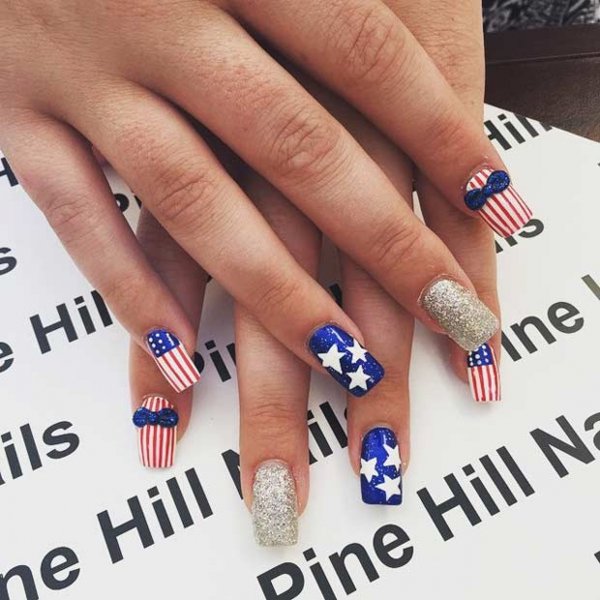 It's the stars and stripes again, but just done in a slightly different way so that it somehow doesn't look anything like some of the ones we've seen before. Same colors, same stars and stripes, just done a bit differently. It just goes to show how easily customizable these patriotic nail ideas for the 4th July really are.
---
27

Blue Glitter + Red & White Stars

If you want an easy way to get that white star look on your nail, regardless of what color under-coat you've gone for, you'll need to look at using a stencil. You can buy sheets of stencils so that you get a uniform look like this one, and all you need to do is lay the stencil over your nail and use a brush (or we like to use a sponge to give an unfinished / vintage effect) to paint those white star designs in.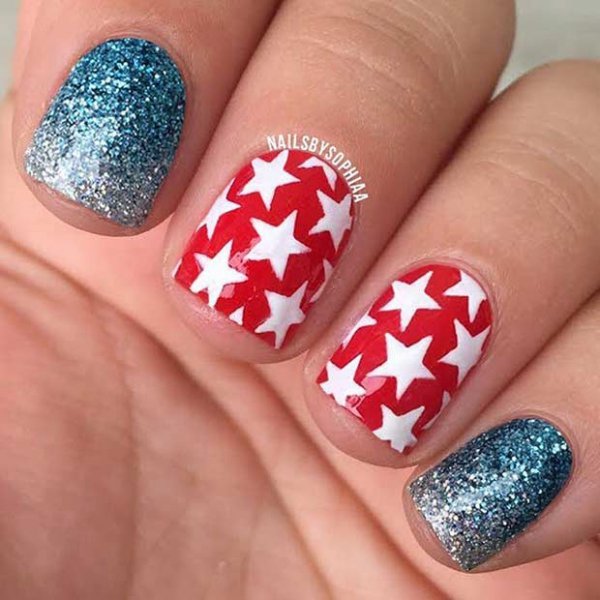 Make sure you cover with top coat before you go on your way and you'll have a simple look that took a few minutes and will last a few weeks if you're careful!
---
28

Stripes + Stars = American Flag Nails

The American flag is the very symbol of the independence celebrated on 4th July, so anything red, white and blue, or stars and stripe-inspired, is a great idea.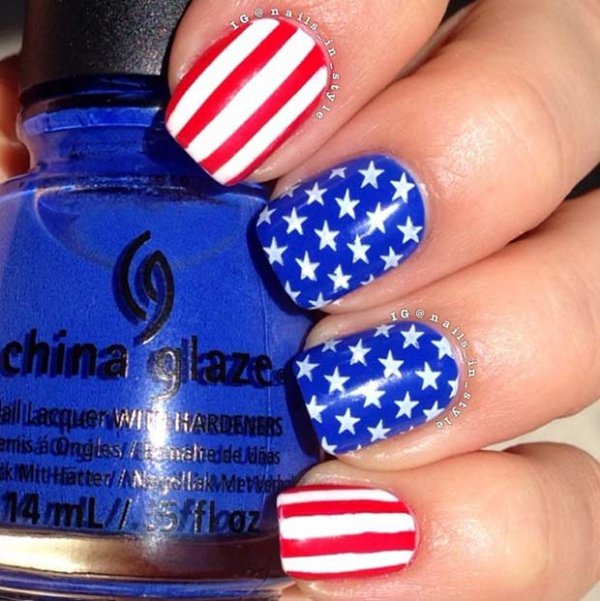 Get inspired with your designs – use bigger and smaller stars, use gem-stars, stencils, decals… There are plenty of tools at your disposal. It's down to you to come up with a beautiful idea. You can always use these as inspiration, of course, or mix and match different features of different nail ideas together.
---
29

Stripes & Polka Dots

It's usually stars and stripes, but what about stripes and spots? We really dig this nail idea – leaving the stars behind and replacing them with white dots instead.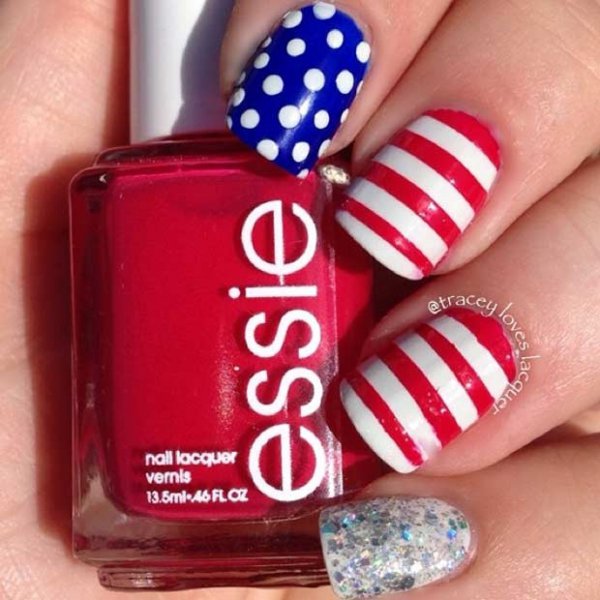 The stripes are easily recreated using thing strands of nail foils, or even tape, but you could always go a little more 'unfinished' by using a nail pen. Sometimes the odd, uneven, slightly messier looks are the best.
---
30

Simple Design for Beginners

How about this design? A perfect one for the beginners out there! It's a clever mix of colors, not quite the traditional red, white and blue but it still works nevertheless, and textured polishes have been used. Didn't we say that was a big thing right now?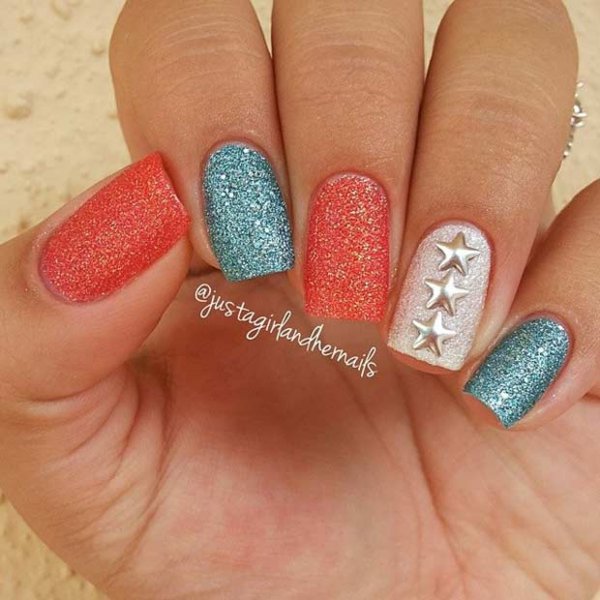 We love those three stars on the featured nail – a great way to remind people what your nails are meant to be about. You could even consider adding a flag if you wanted to, but we quite like these nails just the way they are.
---
31

Glittery French Manicure + Flag Tip Accent Nail

If you want just the subtlest hint for your patriotic nail ideas for the 4th July, what about this look? It's a natural nail with silver glitter tips and on just one nail, the silver tip has been replaced by a miniature American flag.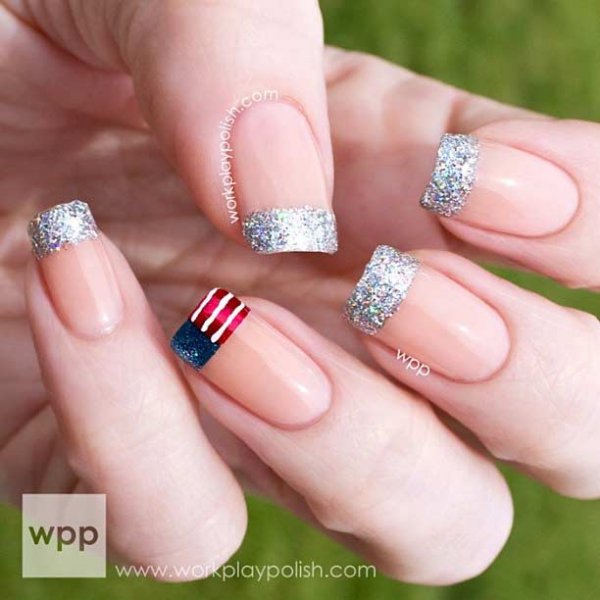 Once you've taped your tip off, cut it in half using tape again so that you can have one side which you'll paint blue, and one side which you'll paint red before adding those white lines. Using glitter on the blue section will give it a little something extra – remember you won't have a lot of space to add those stars!
And there you have them – 31 Patriotic Nail Ideas for the 4th of July. Which one do you think you'll be rocking this year? And what are you going to be wearing on the big day? Let us know!
---
Comments
Popular
Related
Recent