7 Pieces of Nail Art You Can Create with a Sharpie ...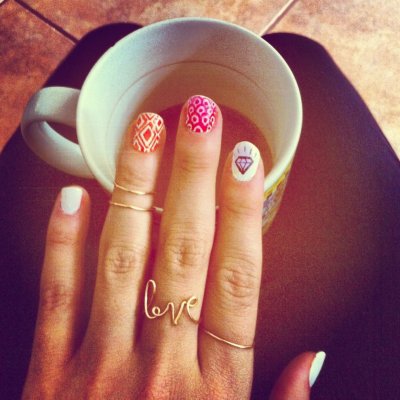 If you don't have any pretty nail polish around, then you can swap them out for a Sharpie. As long as you have white polish to use as a base, you can create anything! If you're interested in creating watercolor nails or nails with miniature designs, here are a few pieces of nail art that you should think about making with a Sharpie:
You should start by painting your nails white and grabbing some rubbing alcohol. After that, you should protect your cuticles by applying a latex barrier around your nails. Once the prep is completed, you should use your Sharpie to draw inside of a container and then add the alcohol to it. Then you can grab a paintbrush and a stencil, and get to work!
2.

Purple Watercolor Nails
Here's another tutorial that'll teach you how to create watercolor nails. You're basically going to do the same thing as the woman in the last video taught you. However, this time you should paint your nails freehand instead of using a stencil. You should also remember to clean and dry your container in between each use, so that you don't ruin your Sharpies.
3.

Polka Dots and Chalkboard Nails
There are plenty of designs that you can create with Sharpies or nail art pens. You can try making vertical stripes, chalkboard letters, chalkboard numbers, polka dots, and triangles. They're all pretty easy to do, which means that you won't waste hours on your nails, but you'll end up getting compliments from everyone you meet.
The woman in this tutorial uses an Easter Egg container in order to mix her Sharpie colors and alcohol. She also reminds us that we don't need all of our nails to match. If you want to save time, then you can use regular polish on your pinkie and some glitter polish on your ring finger. Then you can save the watercolor design for one finger. You'll still look stylish, but you won't be spending too much time on your nails.
5.

Rainbow Watercolor Nails
This tutorial doesn't even have any sound, because it doesn't need it. After all, the instructions are super easy to follow. You're simply going to draw on your nails with a paintbrush until you create a cute design you can brag about to all of your friends!
You don't have to use a bunch of different colors in order to create a gorgeous watercolor design. You can just use different shades of the same color. The woman in this tutorial chose to use blue, and her nails end up looking fantastic!
You don't have to use Sharpies on your nails. You can always use liquid highlighters instead. In order to create a rainbow glitter design, the first thing you should do is apply your glitter polish to your nails. Once they're dry, you can draw over it with different colored highlighters until you create the design you were going for!
If you follow the advice in this tutorial, then you'll have nails everyone will be jealous of! Just make sure to post them to Instagram, so that all of your hard work gets noticed! What color do you usually paint our nails?
{{#comments_count}} Show Commnents ({{comments_count}}) {{/comments_count}}