Katy Perry's manicures are always fun and fabulous. She takes nail art to a whole new level! When she shows up to awards shows, I'm always more interested in her nails than her outfit. She doesn't just get her nails done for red carpet events though, it seems she's always sporting a quirky manicure. I think you'll love Katy Perry's manicures as much as I do.
---
1

The Obama Manicure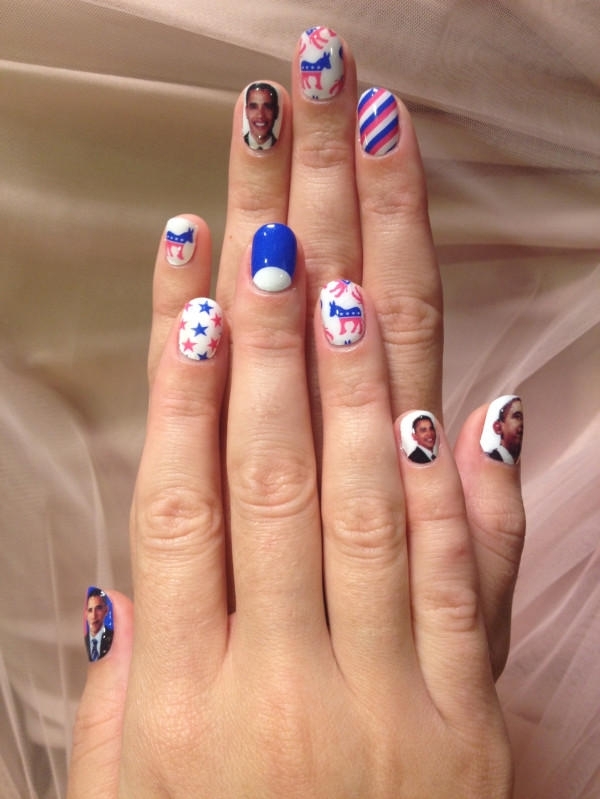 Katy Perry's manicures are fun, flashy, and erm, political! While they aren't always the latter, they were in October of 2012 when Katy Perry sported an Obama inspired mani. She left no question to which candidate she was supporting for the big election. I love the patriotic stars and stripes mixed in with President Obama's face. No matter who you voted for, you have to admit this is one cute and quirky mani. What do you think about wearing the President of the United States as nail art?
---
2

"Killer Queen" Manicure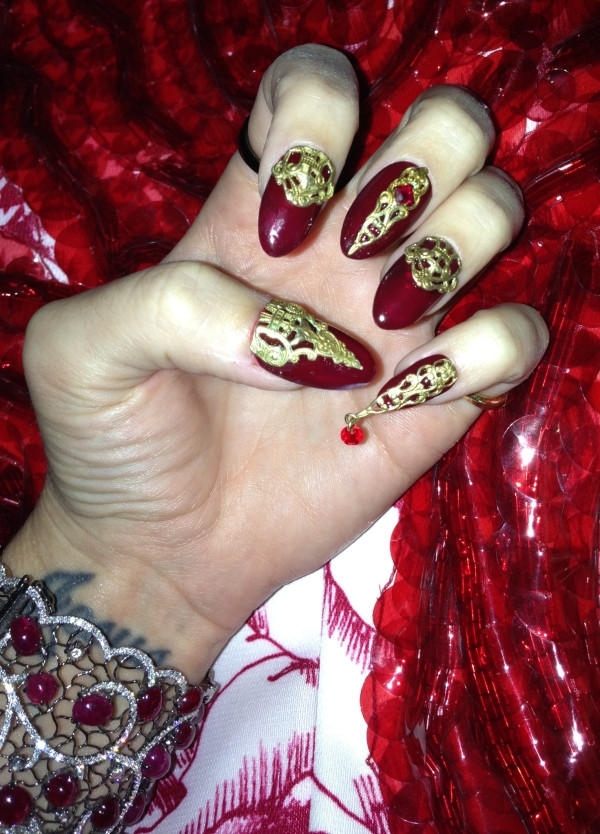 Katy Perry celebrated the release of her perfume, "Killer Queen," by getting a mani inspired by the bottle. These killer claws are adorned with intricate gold designs against a red base, just like the bottle. Even the pointy shape of the nails is reminiscent of Killer Queen. I thought this was a clever way to promote her fruity and flowery perfume. Would you wear ornate designs like this on your nails?
3

The Hollywood Manicure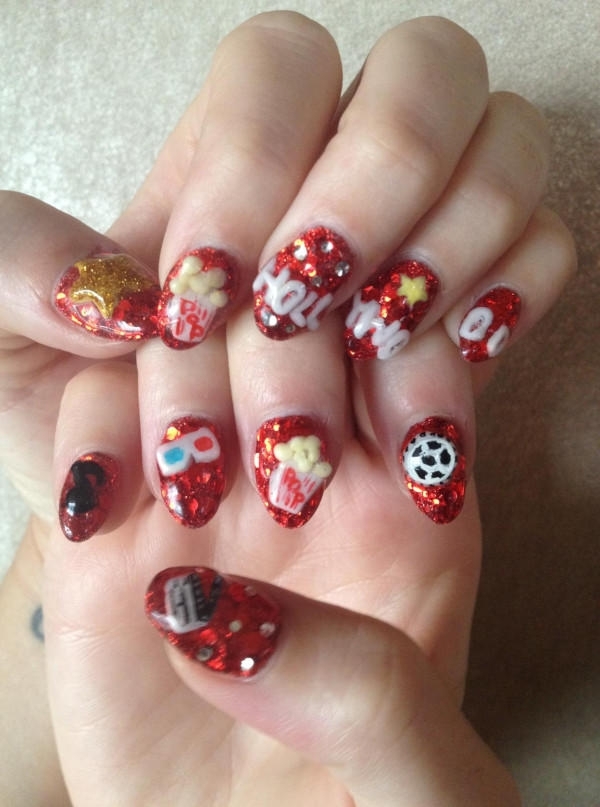 Katy Perry wore this Hollywood inspired mani for the premiere of "Part of Me." The nail art was definitely fitting for the occasion! My favorite part of the nail art is the bags of popcorn. I also love how she included a pair of 3D glasses considering "Part of Me" was a 3D experience! Would you wear nails like these to a movie premiere?
---
4

The Oompa Loompa Manicure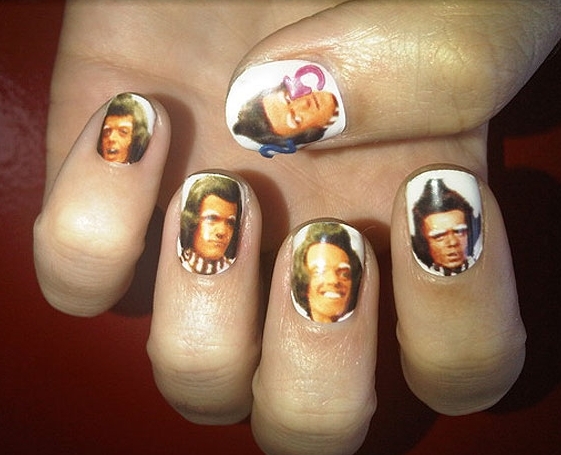 Katy Perry didn't have just any ordinary birthday party, she had a Willy Wonka Extravaganza. What's the best accessory to wear to a Willy Wonka Extravaganza? Oompa Loompa nails, of course ! And that's exactly what she did. She could have gone a number of different routes to support the iconic story in nail art form, but personally, I'm glad she chose the Oompa Loompas!
---
5

The Royal Wedding Manicure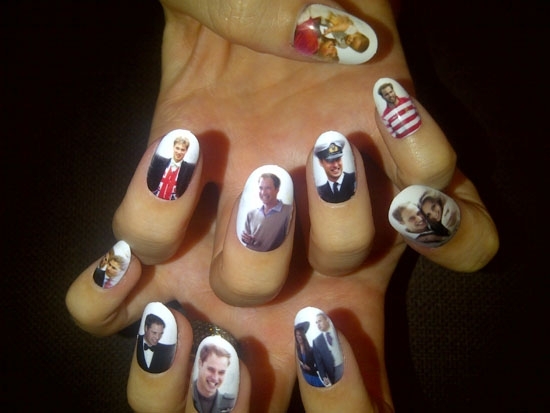 People all over the world were excited for the Royal Wedding. Perhaps no one was more excited than Katy Perry, however, because she celebrated the occasion with a manicure adorned with portraits of Prince William and Kate Middleton (although Prince William was really the star of her nails). She tweeted out a picture of her nails with a congratulatory message for the Duke and Duchess of Cambridge on the day of the big wedding.
---
6

The Flower Manicure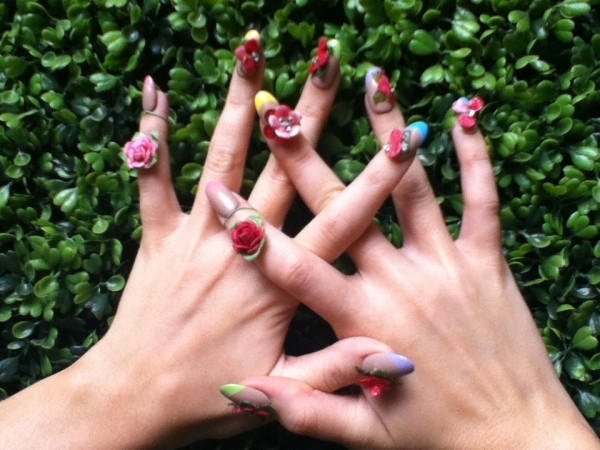 For this rosy mani, Katy Perry chose a tan base color while adorning each tip with a different pastel color. The real focus on her nails, however, are the flowers that are "blooming" right from her fingertips! I love how she wore flowers down her fingers as well. It adds a whole different dimension to her manicure! These nails are just simply gorgeous.
---
7

The Russell Brand Manicure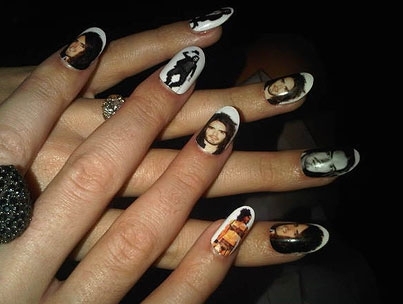 Katy Perry and Russell Brand met at the 2009 VMA's and by the time the VMA's rolled around again in 2010, the couple were already engaged. Russell Brand was unable to walk the red carpet with Katy Perry on their 1-year dating anniversary, so she made sure he was there in some form, by sporting his face on her nails. While the couple has since parted ways, her manicure lives on. Would you wear a portrait of your boyfriend on your nails?
If you love Katy Perry's wacky manicures as much as I do, be sure to follow her on Twitter because that's where she tweets out photos of her latest nail art. She's always great at letting her followers know what salon she visited for her manicures, so you can get your nails done like hers too, if you wish. Which of these manicures was your favorite? Or did you think they were all just a little too much?
---
Comments
Popular
Related
Recent