Beauty trends are starting everywhere with these creative celebrity nail polish designs! Hollywood A-listers never hold back when it comes to making a fashion statement and I'm glad! Their beautiful fashion risks are a great help in knowing what's in and what's out. Take a look at some of the most creative celebrity nail polish designs and find your next manicure!
---
1

Mod Manis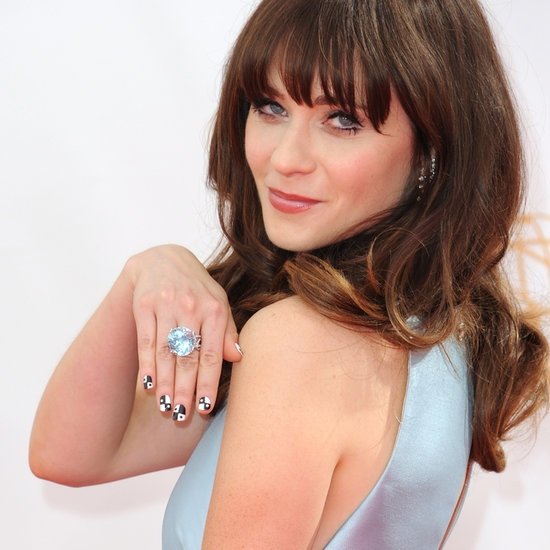 The retro-inspired tips are totally in right now! Zooey Deschanel, the hipster queen, has been seen rocking this look on the red carpet! The look is really simple to create. With the color combo of white and black, the designs are endless! Use a striker brush to do your designs: polka dots are always a fun addition! I love rocking this look with a simple outfit because it's a cool and funky pop! This is definitely one of the most creative celebrity nail polish designs.
2

Pearly Tips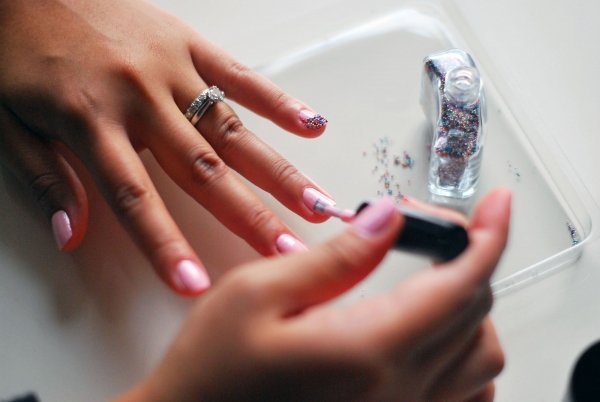 Another cool look that's been trending is the half-moon mani. It's a modern take on the classic "french tip". The tip's color takes up at least half of your nail, making the bottom half look like a half moon. Jennette McCurdy, star of Nickelodeon's Sam & Cat, rocks this look all the time! To add a little more creativity, she added pearl accents to the moon half of the nail! I love this look! It's really classy and chic.
---
3

Neon Nails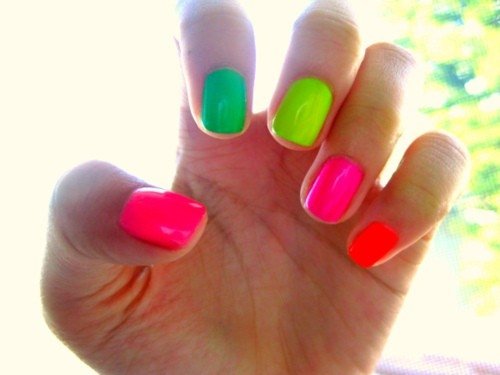 This past summer was all about having a pop of neon somewhere in your outfit. The bright colors look gorgeous on tanned skin and looks so flirty and fun! Pretty Little Liars' Shay Mitchell posts tons of #manimondays on her Instagram account! I love how you can combine a bunch of neon colors and it still manages to look like it belongs. The designs are limitless! My favorites are definitely a bright pink and green!
---
4

Nude Matte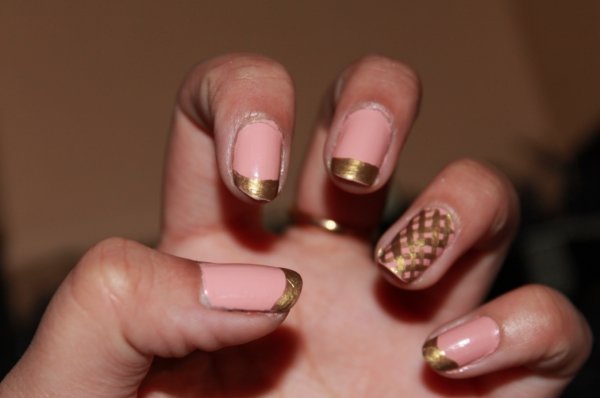 The nude nail color is very, very chic. I think it shows how put together you are, without looking like you're trying too hard. It's a color that goes great with any skin tone. The matte finish modernizes this classic look. Chloe Moretz showed off her nude nails at the MTV Movie Awards! It's my current obsession!
---
5

Glitter Glam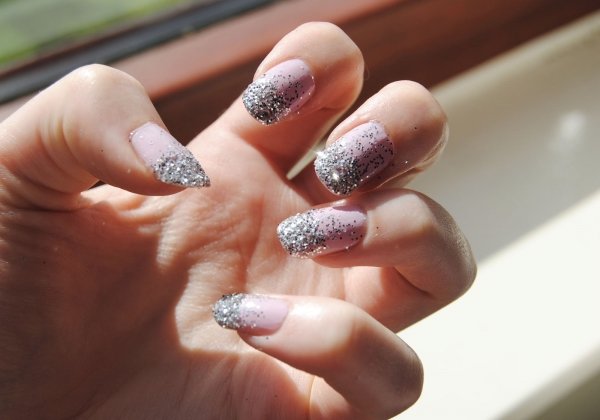 One of my favorite things to do when painting my nails is adding some glitter polish! I've learned that if I ever smudged a nail, the glitter finish is an awesome way to hide the error. It's really easy to do on your own and some celebrities have even rocked it big events! Modern Family's Sarah Hyland added glitter to her grey mani at the 2012 Emmys. It's such a cute look!
---
6

Caviar Nails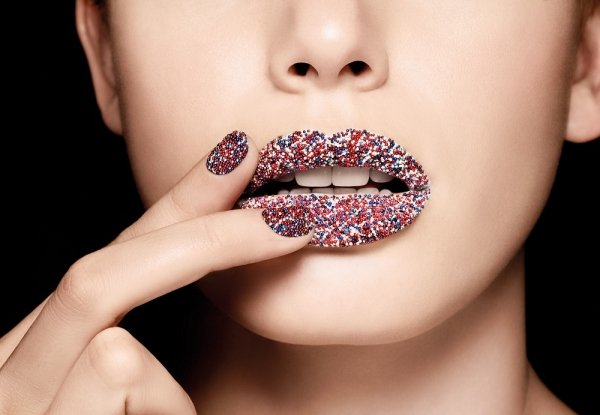 With a fancy name like that, I knew it'd be a big trend! It was created by Ciaté Nails and their director was going for something "feminine and dimensional and delicate." I think you need to have a lot of patience if you try to master this design all on your own! The end result is totally worth it, though. Stars like Jessica Biel and P!nk have worn this style.
---
7

Ombre Nails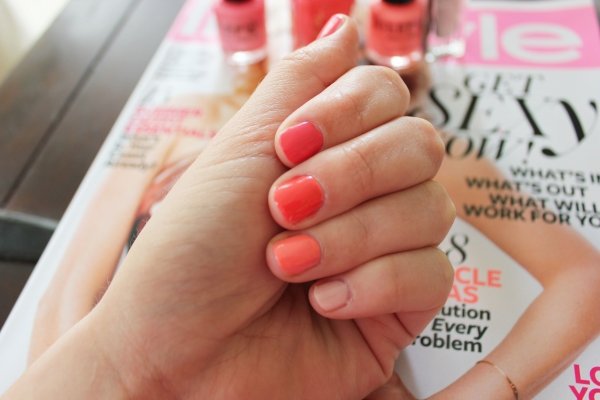 If you don't want to commit to ombre hair, try it out on your nails! The look can be done with any color, and it's a fun fashion statement! I love painting my nails ombre with a pastel color whenever I'm missing the summer. Recently, for the fall/winter, I've been obsessing over reds and oranges. Don't you just love how your nail color can match the seasons?! Lauren Conrad and Vanessa Hudgens have both worn this creative nail polish design!
---
8

Trendy Talons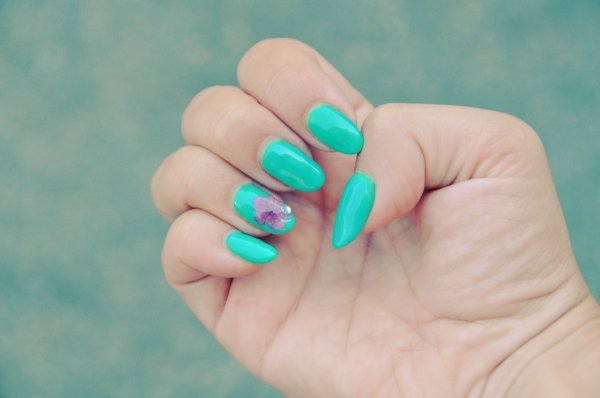 I've always wanted to rock this look, but I think they might be a bit out-dated already. Celebrities like Demi Lovato, Lady Gaga, and Rihanna have all stepped out with these "claw" nails, inspiring others to do the same! I love the fun designs that you can do with them! Or, a bold solid color, will still do the trick! I think with their lifestyles, (constant red carpet events) the talon nails can look really sassy and fierce. However, for everyday work/school schedules, they might actually be a bit inconvenient.
---
9

Studded Jewels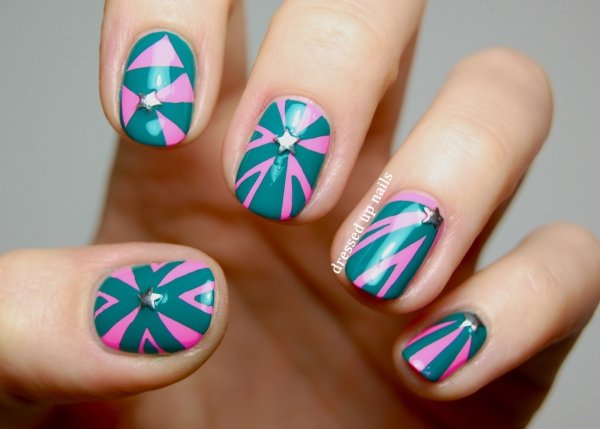 Nowadays, it's like everything in fashion is studded! But hey, I'm not complaining. I think studs are totally timeless and incorporating them into your nails is awesome. Stars like Kesha (someone who's always trying out new trends) has rocked this look multiple times! You can stud your entire nail, or line them up vertically, etc. I would opt for the single stud at the bottom center of my nail. It gives your nails this cool, edgy look — no matter what color nail polish you used!
The list of creative nail polish designs goes on and on. I love how easy it is to express yourself through all these awesome colors and designs! Will any of these creative designs be your next #manimonday on Instagram?
---
Comments
Popular
Related
Recent