With the Spring season coming around, it's time to change out those dark, gloomy nails for some fun nail polish combinations! Personally, I never have matching finger and toe polish because with all the pretty shades out there, it's hard to narrow it down to just one. I am always experimenting with different polish shades and trying to find ones that go well with each other. So here are 10 of my favorite nail polish combinations that I have found so far.
---
1

Lapis and Cream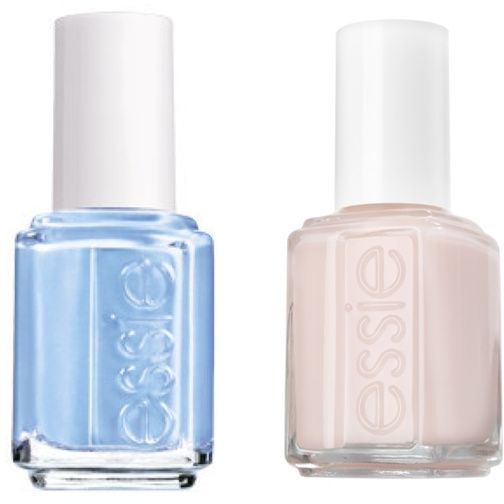 (shown above: Essie in "Lapis of Luxury" and "Ballet Slippers")
This is on my list of nail polish combinations to try because I love the softness of the lapis and cream. I usually use the darkest color of the combo on my toes and the lighter one on my fingers if i'm just doing solid colored nails. But don't be afraid to mix it up sometimes. Although it is nothing too vibrant or extreme, this color combo is still cute, simple, and perfect for ringing in Spring.
---
2

Electric Pink and Silver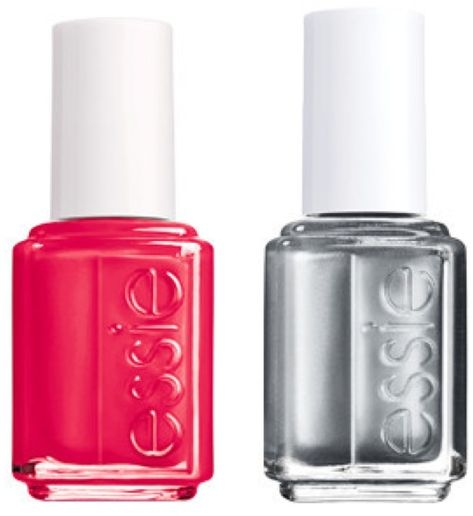 (shown above: Essie in "Olé Caliente" and "Theres No Place like Chrome")
This is a great combo because of the huge color contrast. The intense pink matched with the light and bright silver make it such a pretty combo. When I think of Spring, this pink is a color that comes to mind because it is just so fun and uplifting!
---
3

Poppy Red and Nectarine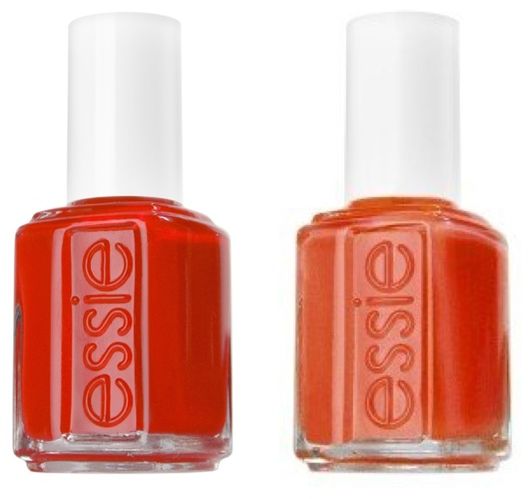 (shown above: Essie in "Geranium" and "Meet Me At Sunset")
May I point out that both of these colors happen to be on the Pantene Spring 2013 Color Collection, so you KNOW they are going to be everywhere. I like the fact that they are both in the same warm tone family and together they definitely give a huge pop of color. These are also great to wear right into the lovely Summer season that we're all definitely looking forward to.
---
4

Mint and Coral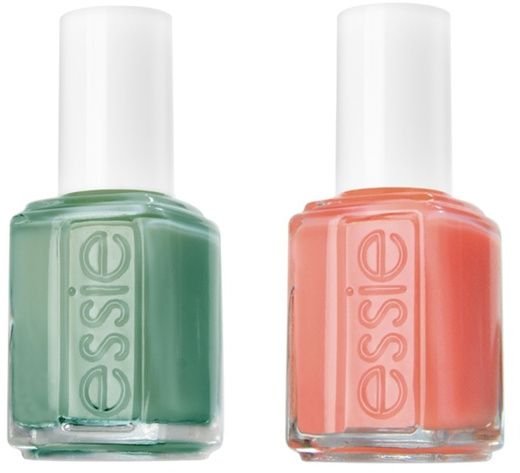 (shown above: Essie in "Turquoise & Caicos" and "Tart Deco")
I love this combo because it is sweet and delicate, much like Spring. Because they are both lighter colors, you can mix it up! Use more soft, pastel versions for Spring, and switch to vibrant, bold versions for Summer! These two colors complement each other very well and are still very popular. If you haven't tried this one yet, what are you waiting for?
---
5

Emerald and Gold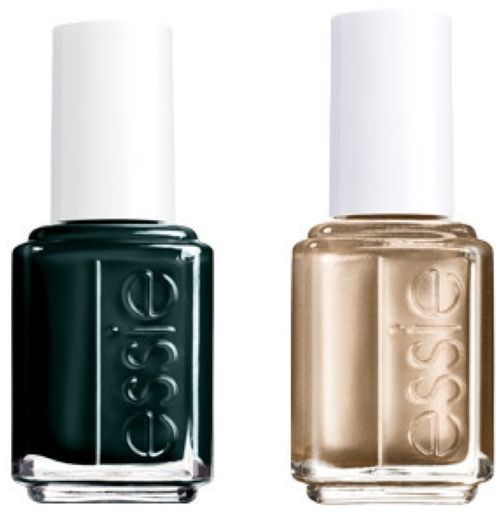 (shown above: Essie in "Stylenomics" and "Good as Gold")
Emerald has officially been named the Color of the Year for 2013, so you will definitely be seeing it pop up everywhere. Combining this rich, sultry color with a bright, fun, eye catching color like gold is bound to get you some compliments. It's elegant and fun at the same time!
---
6

Lilac and Grey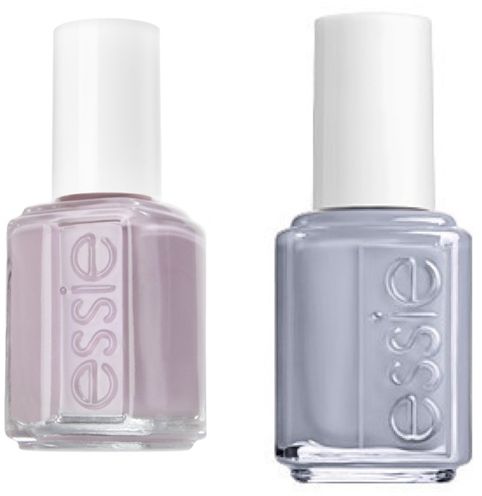 (shown above: Essie in "Lilacism" and "Cocktail Bling")
This is a color combo that is more on the softer side. For those who may not be the type to wear bolder colors, this combo is perfect for you. It is soft and delicate, and wonderful for Spring. I find the combo of lilac and grey to be super soothing and calming.
---
7

Pastel Pink and Glitter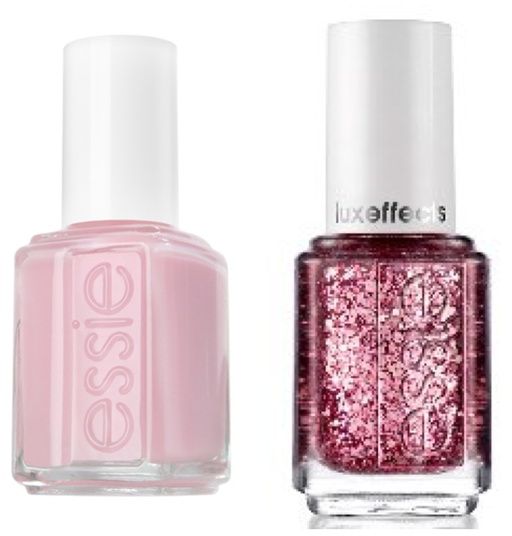 (shown above: Essie in "Poppy Art Pink" and "A Cut Above")
This is one of my favorite combos because I love how cute it looks during the Spring. The soft pink combined with a the fun glitter gives off a care-free, easy going vibe, and is always a compliment magnet. There is no denying that these two combined look adorable and scream girly glitz.
---
8

Aqua Blue and Green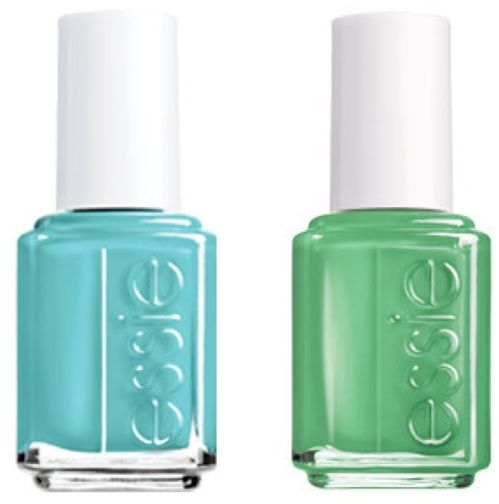 (shown above: Essie in "Wheres My Chauffeur?" and "Mojito Madness")
When I see this combo, I think Caribbean vacation, or island tropics. The blue makes me think of crystal clear ocean waters, and the green makes me think of everything Spring! Relaxing on the beach, watching plants and flowers coming into bloom, laying out on some nice green grass. It's like a little escape right on your nails!
---
9

Plum and Beige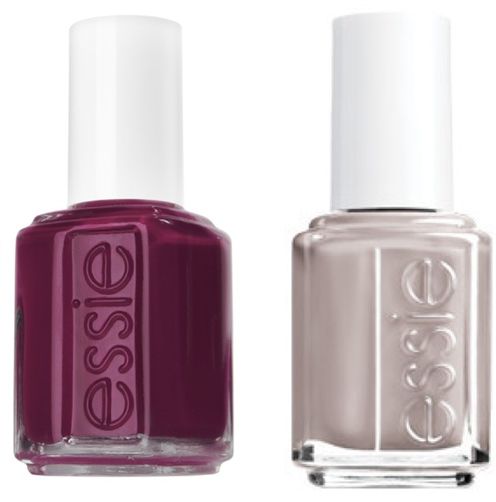 (shown above: Essie in "Bahama Mama" and "Sand Tropez")
Again, for those who prefer a more subtle and calm look, try this one. The rich plum is deep and elegant, while the beige lightens things up a bit. Its a perfect balance, and it's great if you just wanna keep your nails on the simple side.
---
10

Electric Blue and Soft Lavender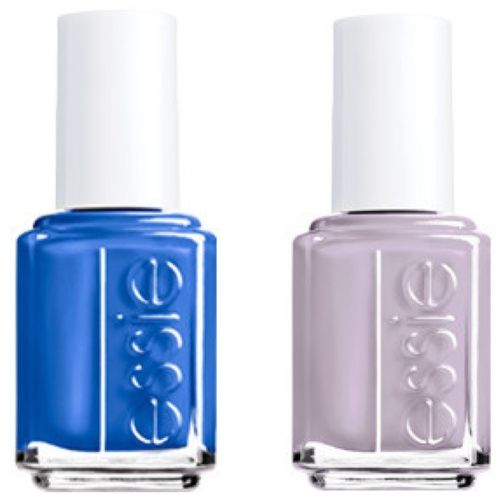 (shown above: Essie in "Butler Please" and "Pilates Hottie")
And last, but most certainly not least. we have electric blue and soft lavender. This is another one that puts two amazing, contrasting colors together to give you one awesome combo. The electric blue excites the eye, while the soft lavender maintains the right balance. Both are in the cool color family, so it is not too clashing, but still fun to look at and cute!
So those are 10 hot nail polish combos to try this season. Keep in mind, you don't have to stick to plain jane solid nails. Play with some designs! Of the combos I shared, which ones did you like? Do you have combos that you have tried and loved? Please share!
More
Comments
Popular
Recent