Are you as excited as I am to see the new crop of nail wraps?! These days you don't need to go to the nail shop to get a flawless manicure or cool nail art. When nail wraps first came out, I have to admit they were quite boring. There wasn't much variety but now, it's a totally different story! In addition being super easy to use, long lasting and easy to remove, nail wraps are a fun way to express your creativity and style!
---
1

Sephora by OPI Trend Tips in Ikat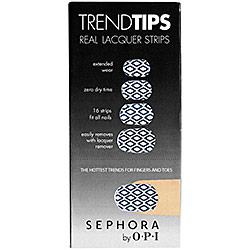 To me, one of the best things about nail wraps is that you can easily rock your favorite nail art styles in just a few minutes! No need to worry about having the right colors or tools when you can press on the polish and go! This Ikat design is simple yet chic, and great to rock the hot black and white trend!
---
2

Sally Hansen Salon Effects Nail Polish Strips in the Bold Rush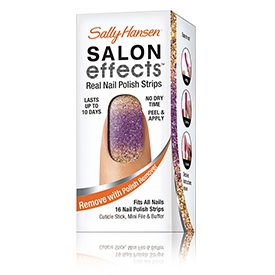 If you love the glitter gradient look, The Bold Rush is perfect for you! Wear this on a night out as a pop of sparkle or wear it during the week to add some fun to your outfits! Glitter is pretty in all colors but this gradient of purple and gold is glitzy and screams glamour!
---
3

Melody Ehsani X NCLA Summer 2013 Collection in Massai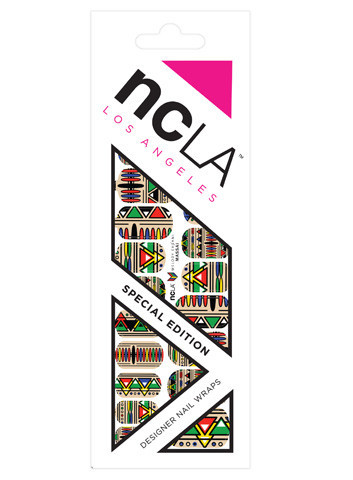 Jewelry designer Melody Ehsani got together with NCLA to create five limited edition nail wraps and I think one of the best of the bunch is Massai. This nail wrap is colorful, bright and reminds me of mini works of art on your fingertips! These would look great when you want to add some color to your ensemble or just to wear a fun look on your nails!
---
4

ASOS Nail Rock Jade Quail Nail Wraps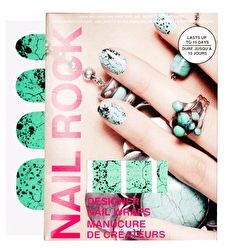 If you crave nail polish strips with a unique design, Nail Rock's quail egg design is to die for! If you don't fall in love with the ultra-cool teal color, I think you'll adore the quirky and fun cracked design. Perfect for school or to wear on the weekend, this design is sure to complement a variety of looks!
---
5

Sephora by OPI Trend Toes in Cheetah Sparkle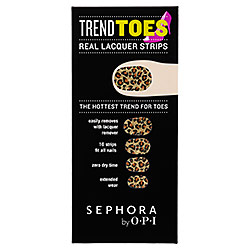 Why should your fingers have all the fun?! Give your toes a glitzy makeover by wearing these cheetah-print gold nail polish strips on your toes! Show the world your animal side by letting these peek out from your peep toes or sandals. No one will be able to ignore your toes when you step out with animal print style!
---
6

Sally Hansen French Mani Real Nail Polish Strips Polka Party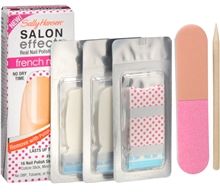 If you like the look of French tips, Sally Hansen's got a variety of French tips nail polish strips that you're sure to love! Whether you like glitter tips, solid color tips or, in this case, polka dots, you'll find a French tip to match your every mood! What a fun and flirty way to wear your nails, and without any muss or fuss!
---
7

Nail Fraud Nail Polish Strips in Happy Hands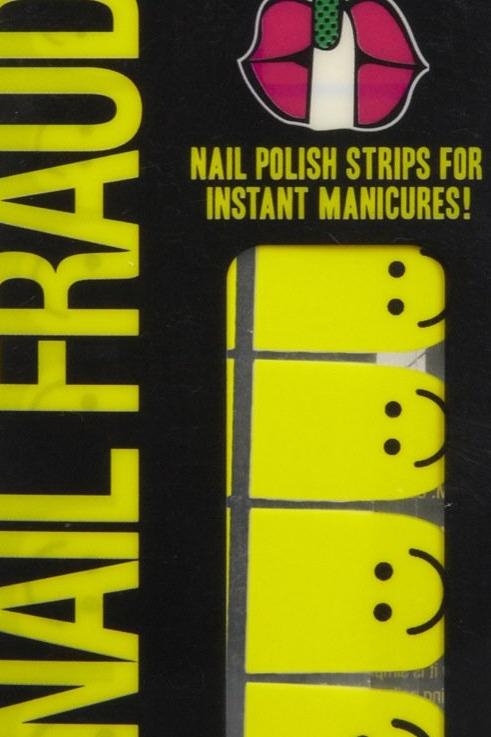 I know these nail polish strips are pretty wild but I just couldn't resist these cheerful little guys! If you can't see yourself wearing this design on all 10 nails, it would look great on an accent nail, also! Even if you have a serious case of the Mondays, you can't help but crack a smile looking at these bright, cheery nails!
---
8

FINGERNAIL FRIENDS at the FARM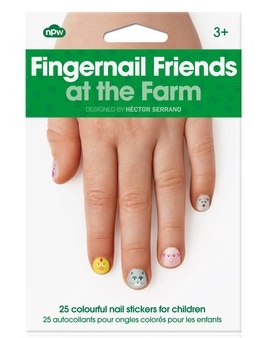 If you have a little girl who loves to primp, these nail strips were made just for her! Girls age 3 and up can enjoy decorating their nails with super cute farm animal faces. Make a spa night with your little one and have fun doing nails and enjoying some girl time. All you have to do is peel, stick and you're styling!
---
9

L'Oreal Colour Riche Nail Lingerie in Bling Addict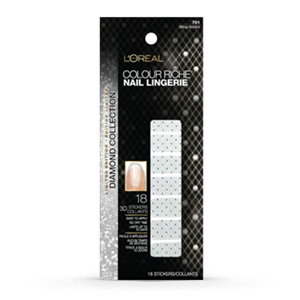 L'Oreal's nail wraps are a little different in that they work like regular nail polish strips but they add a cool sparkly pattern to your polished nails. It's almost like the final touches to your manicure! Wear Bling Addict on top of your favorite nail color for an instantly fabulous and luxe look!
There are so many ways we can dress up our nails! Nail wraps are perfect to wear on a trip because you won't need to worry about your nails chipping or having to tote along your nail polish for touch-ups! Do you wear nail wraps? What's your favorite brand?
More
Comments
Popular
Recent