10 of the Coolest Nail Stickers You Can Find on Amazon for an Epic Manicure ...
By Keyaani
Imagine being able to recreate the perfect manicured
nail art look without having to spend hours on it and now you can with the coolest nail stickers.
The nail stickers trend has been popping up quite a
lot recently on YouTube, Instagram, Pinterest and other social media platforms. The effect is truly amazing and what makes it more appealing, it's affordable and really easy to apply. From Park Eun Kyung's broken glass effect, lace details, emojis or splashes of colour without smudges; there's bound to be something to catch your eye.
If you want to up your nail game then check out these
10 coolest nail stickers by bustle.com that are easily available to buy from Amazon. Add some expression to your nails with these gorgeous nail stickers.
---
1

The Viral Broken Glass Trend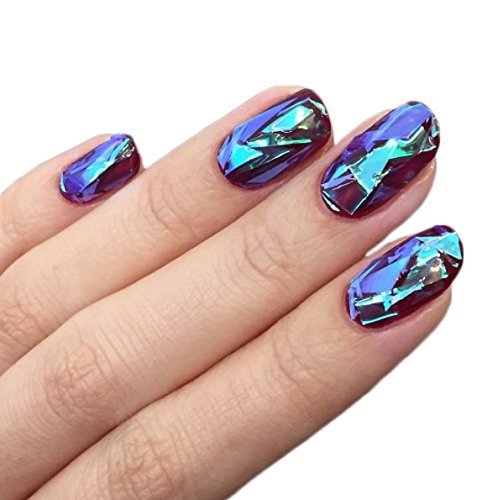 BTARTBOX BROKEN MIRROR NAIL SHEETS, $8, AMAZON
A trend popularized by Park Eun Kyung, these BTArtbox Nails Sheets give you the broken glass effect that people are obsessing over. This one comes with ten packs in different colors, and since you cut the sheets, you can personalize your design however you want. "My nails are on point," reviewers say. "These are awesome."
---
2

Showcase Your Favorite Emojis to the World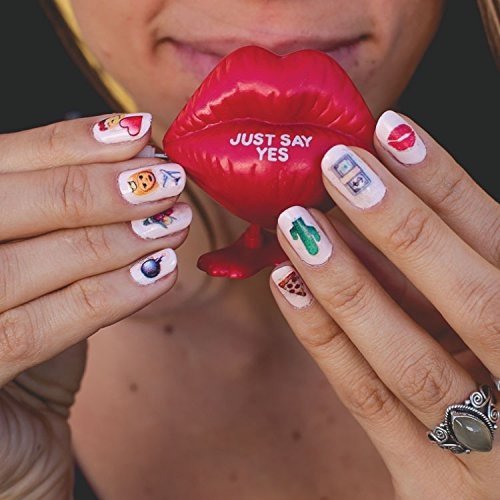 Tattify Too Emojional Emoji Nail Decals, $7, Amazon
With 56 different emojis, Tattify Too Emojional Emoji Nail Decals have everything from the mustached man to the cactus. They simply stick on over your manicure for a fun, waterproof design that can last for up to 5 days.
---
3

For All the Van Gogh Fans out There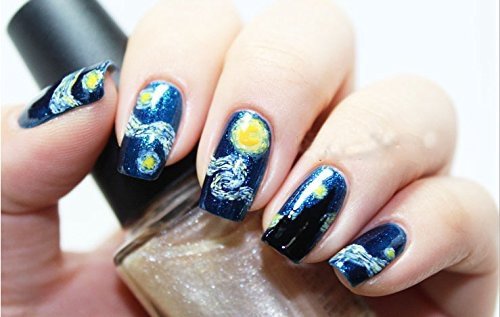 Bluezoo Van Gogh's Starry Night, $4, Amazon
Flaunt your love for the classics with these Bluezoo Van Gogh's Starry Night Decals. They comes in two sheets of 14 decals, and they're bright, glittery, and easy to apply because of their self-adhering back. "Pictures just dont do them justice," reviewers say.
---
4

These Cool Rhinestones with a Rainbow of Colour inside Them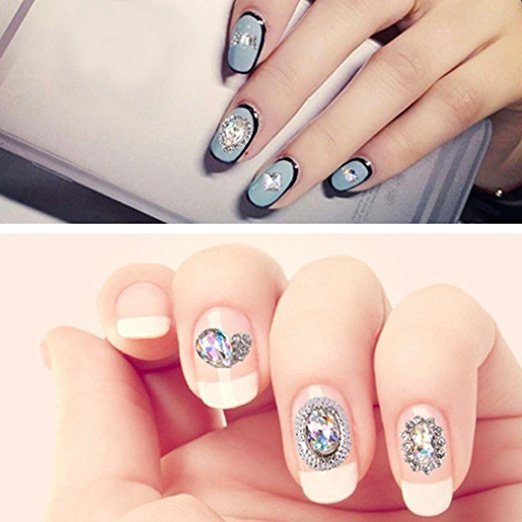 Binmer 3D Glitter Rhinestones, $4,Amazon
These gorgeous Binmer 3D Glitter Rhinestones have a rainbow of colours inside them and stick right on to your base coat. They come in a pack of 12 different shapes and designs, and can dress up any manicure with a little sparkle.
---
5

An Elegant Twist for Your French Manicure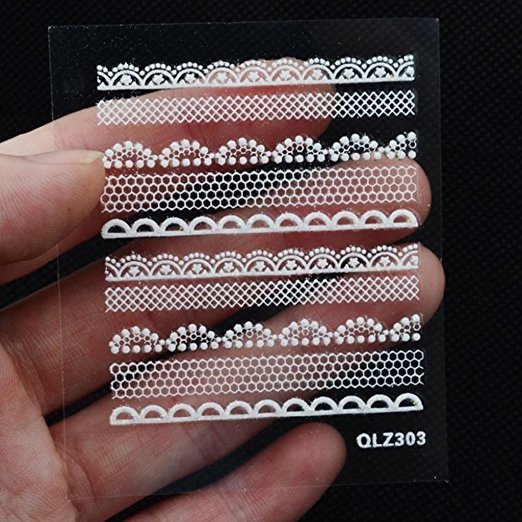 Elevin Lace Nail Decals, $4, Amazon
I'm obsessed with lace to the point where I've gotten called out by the cashier at the bra store. These Elevin Lace Nail Decals give your fresh manicures an elegant twist. They come in 30 sheets of self-adhering designs, and they look great over any base color.
---
6

A Modern Burst of Color with No Dry Time or Smudges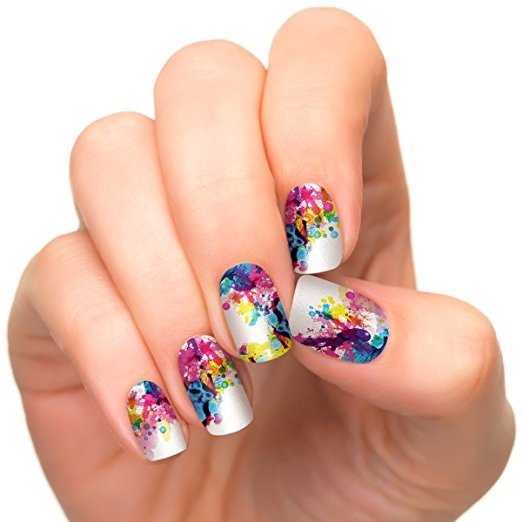 Incoco Chemistry Nail Polish Strips, $9, Amazon
I'm in love with these Incoco Chemistry Strips, which are made from real polish and really make your nails pop. They come with two sheets of varying sized strips to fit every nail, and they come off with your standard remover. Best of all, no dry time, smears, or smudges.
---
7

This Set That's Got All Your Nail Sticker Basics (and a Few Other Essential Tools)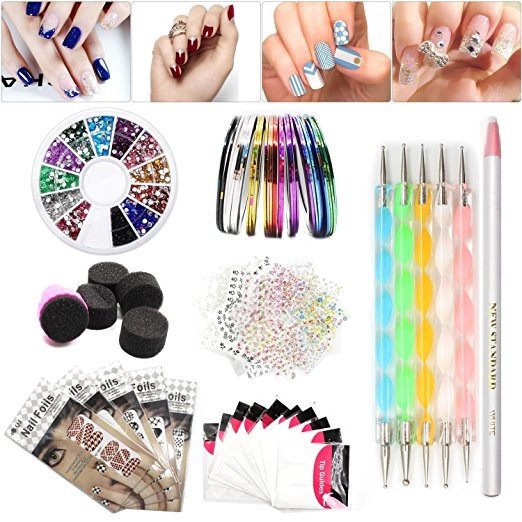 Sinsun Nail Art Set, $11, Amazon
The Sinsun Nail Art Set comes with 45 sheets of stickers, strips of colored line tape, rhinestone stickers, gradient sponges, tip guards, nail foils, and dotting and marbleizing pens. It comes with everything you need to give your nails a personalized, professional look without hassle or extensive dry times, and reviewers are saying, "If you are a novice like myself but are crafty and capable of doing your own nails, this is such a great set."
---
8

50 Sheets of Subtle and Timeless Decals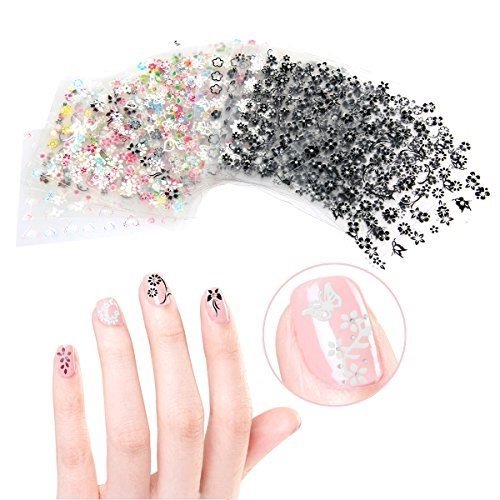 Tinksky 3D Design Decals, $7, Amazon
With 50 whole sheets of these Tinksky 3D Design Decals, you'll be set for quite a while. They're made from a durable PVC, have an already applied adhesive back, and come in tons of different colors and shapes (like flowers, vines, hearts, and butterflies). If you're looking for subtle and timeless, this is it.
---
9

These Sticker Stencils for Bold Designs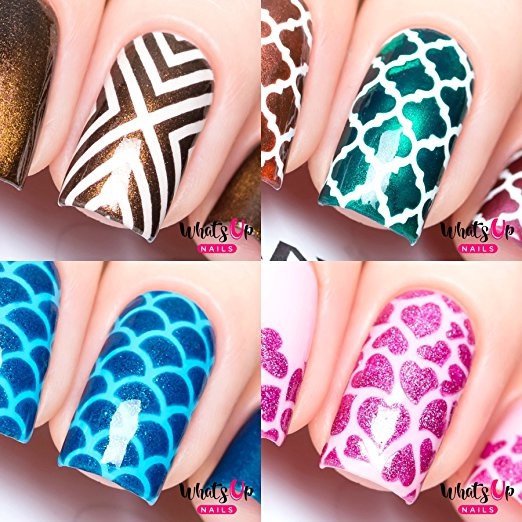 Whats Up Nails Vinyl Patterns, $17, Amazon
These Whats Up Nails Vinyl Patterns come with four different sheets — X-pattern, Moroccan, scales, and hearts. The stencil sticks on to your nail so you can use whatever color you prefer, and reviewers are saying things like, "These are great... They stick onto your nail great and come off easily with no sticky residue."
---
10

These Gorgeous Blue Flowers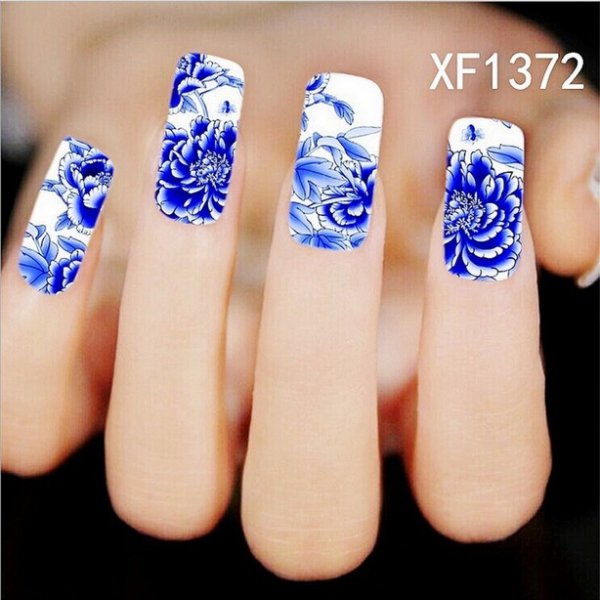 Leeco Blue Flowers Transfer Decal, $7, Amazon
Finally, these Leeco Blue Flowers Transfer Decals take no more than 20 seconds per nail, and they come in five sheets — one of which will fit all fingernails, toenails and nail tips. Reviewers say they're easy to apply and go on perfectly, and apparently they can last several weeks at a time.
More
---
Popular
Recent