Mardi Gras is such a fun holiday to celebrate. It doesn't get as much attention as other holidays, but it sure is fun to revel in the glamour of a great Mardi Gras party. One of the easiest ways to get in the spirit is to create some fabulous nail art to show off. Whether you're a beginner or an expert, you can create a look that fits your event. Use colored polish and nail art tools to make your masterpiece. Here are some great ideas to get you started.
Table of contents:
1

Sparkles and Swirls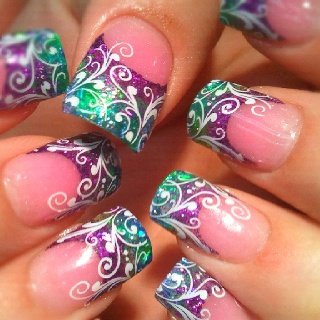 Via Top DIY Nail Art Ideas, ...
Everything about this nail art is great - the color, the swirls and the sparkle.
2

All Swirled up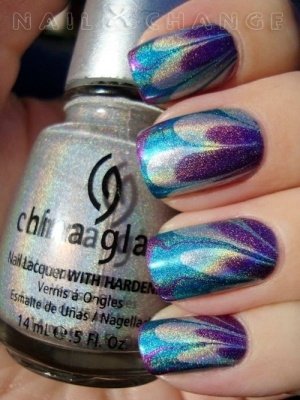 Via Indulgy - Everyone deserves a ...
This swirled look in traditional Mardi Gras colors is a fun and easy look to carry out.
3

Mixed Glitter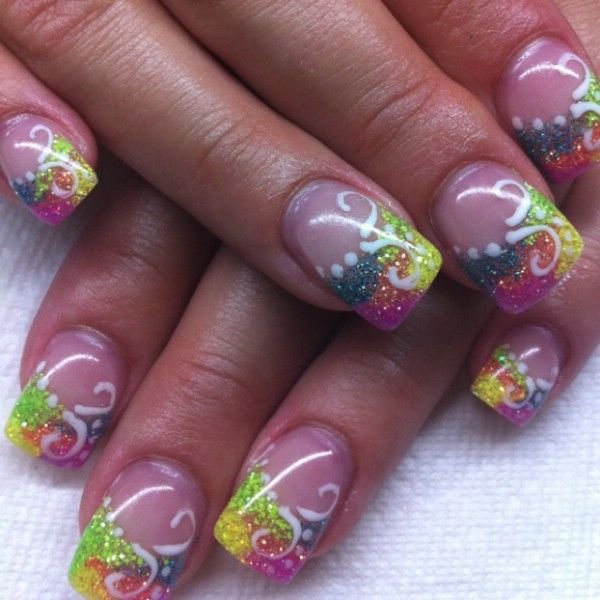 Via 15 Trendy Gel Nail Designs ...
I love how the different glitter colors are combined together on the tips of the nails.
4

Masks Everywhere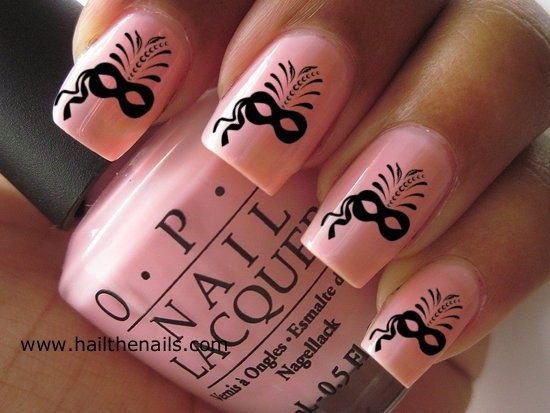 Via Black Masquerade Mask Water Transfers ...
Aren't these tiny little Mardi Gras masks fantastic? Could you paint them?
5

Gold Lines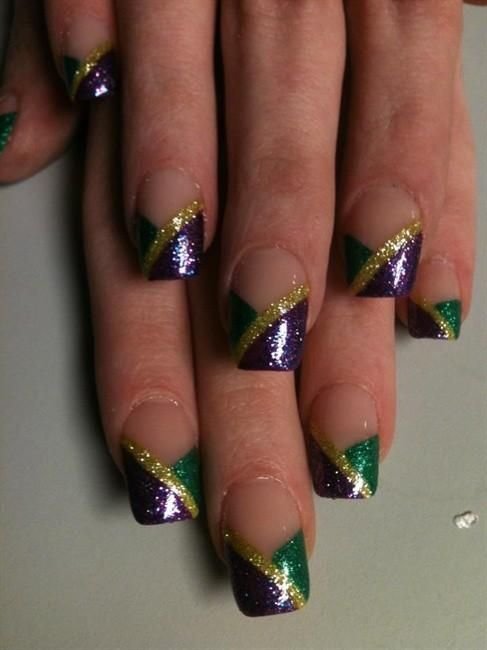 Via Wedding Bell Talk
It's pretty awesome how the gold lines bisect the purple and green. What do you think?
6

Several Looks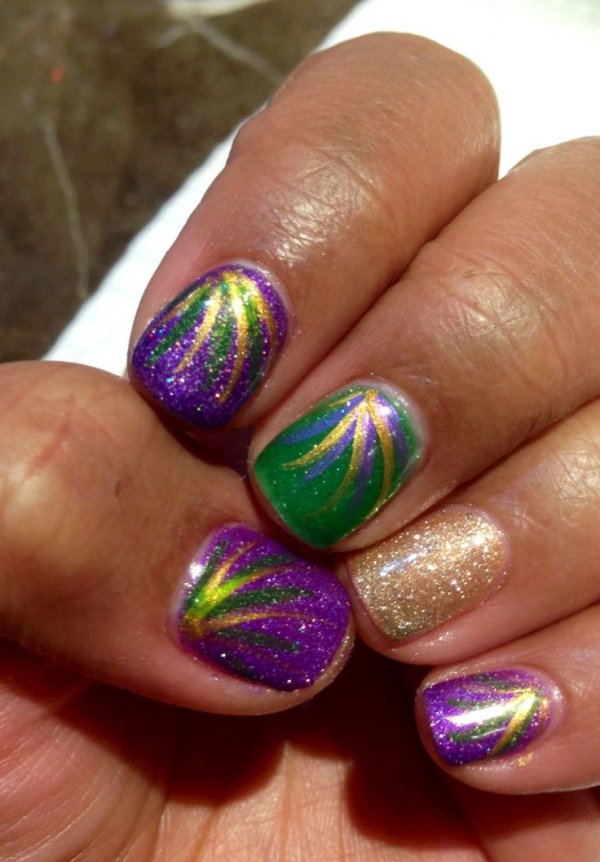 Via Nails
Painting several nails in different patterns in a nail art trend and Mardi Gras is the perfect time to give it a try.
7

Fat Tuesday Manicure!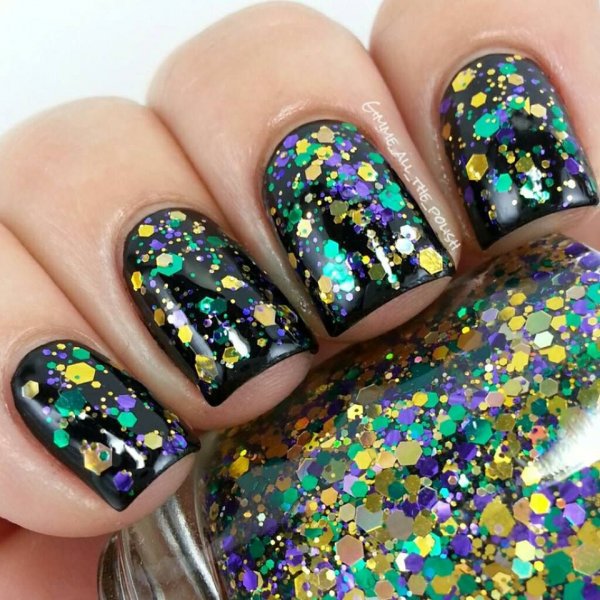 Via Glisten & Glow Nail + ...
These sparkly nails are ready for any Fat Tuesday celebration.
8

Criss Crossed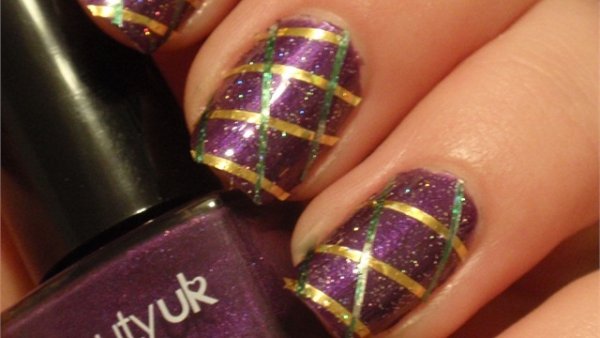 Via Mardi Gras Nails
The criss crossed pattern on these nails is fun to look at, but not too over the top.
9

Solid Sparkles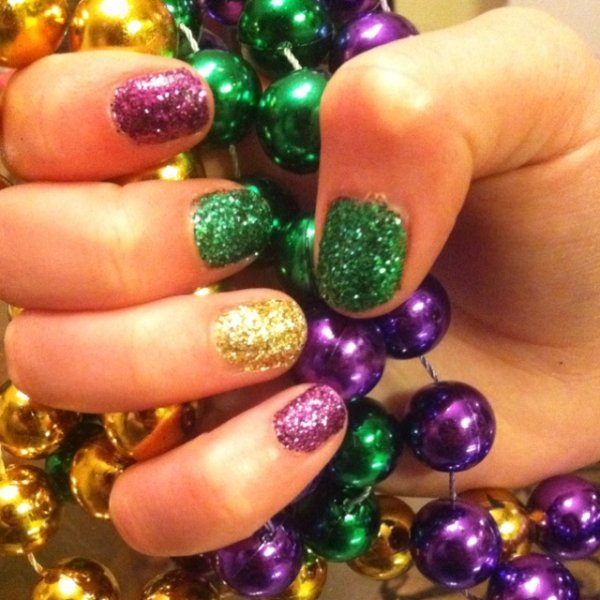 Via My Style
There's nothing wrong with using Mardi Gras colors and skipping the designs.
10

At the Tips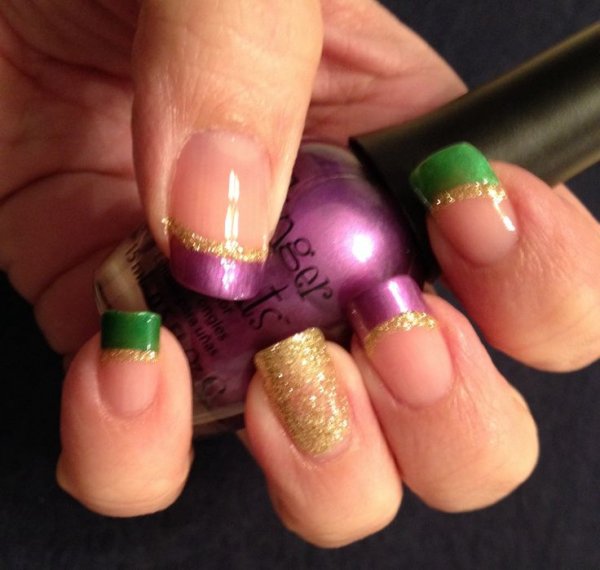 Via Nail Art
Color at the tips is easy and the one gold nail makes this manicure really stand out.
11

Mardi Gras Mask Close-up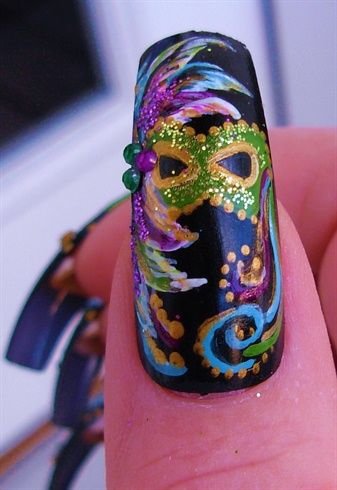 Via Mardi Gras Mask close-up - ...
You'd have to have a steady hand to do this, but the effort would be totally worth it.
12

Add Some Bling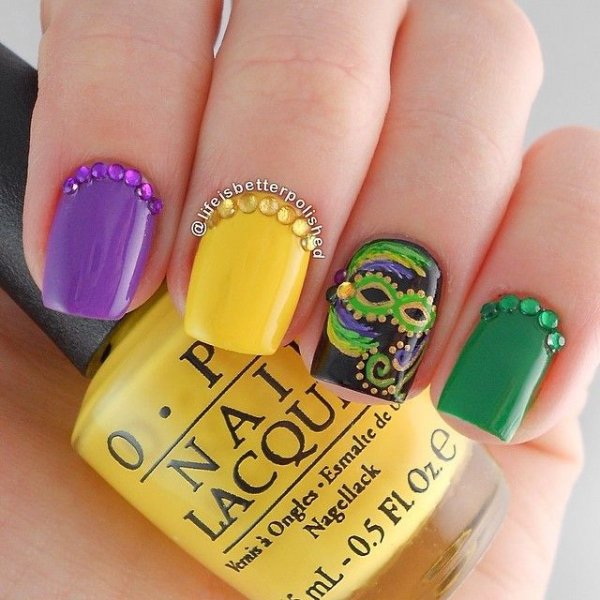 Via Instagram
The rhinestones are super fun and give this look something really specail.
13

Over the Top Glitter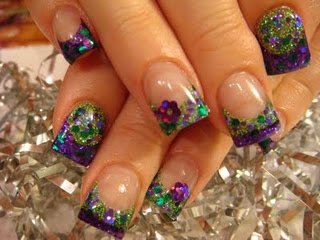 Via Nail Art
Don't be afraid to use lots of glitter. After all, Mardi Gras is all about a party.
14

Sequins and Glitter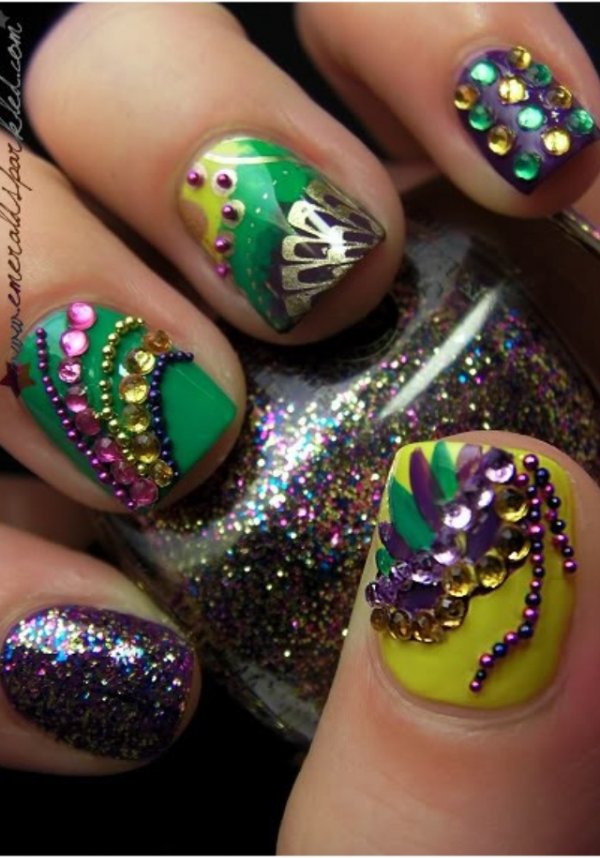 Via @nuriss_c
What's not to like about these fantastic nails? Do you love them as much as I do?
15

Colorful Dots
Via Did My Nails
The dots are super easy to do and sort of look like party streamers.
16

Gold Base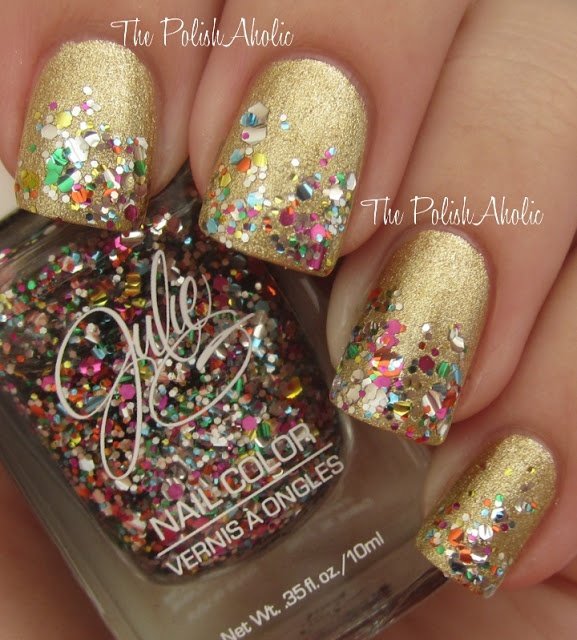 Via The PolishAholic: JulieG Holiday 2012 ...
A gold base coat is absolutely perfect for Mardi Gras nails.
17

Several Base Colors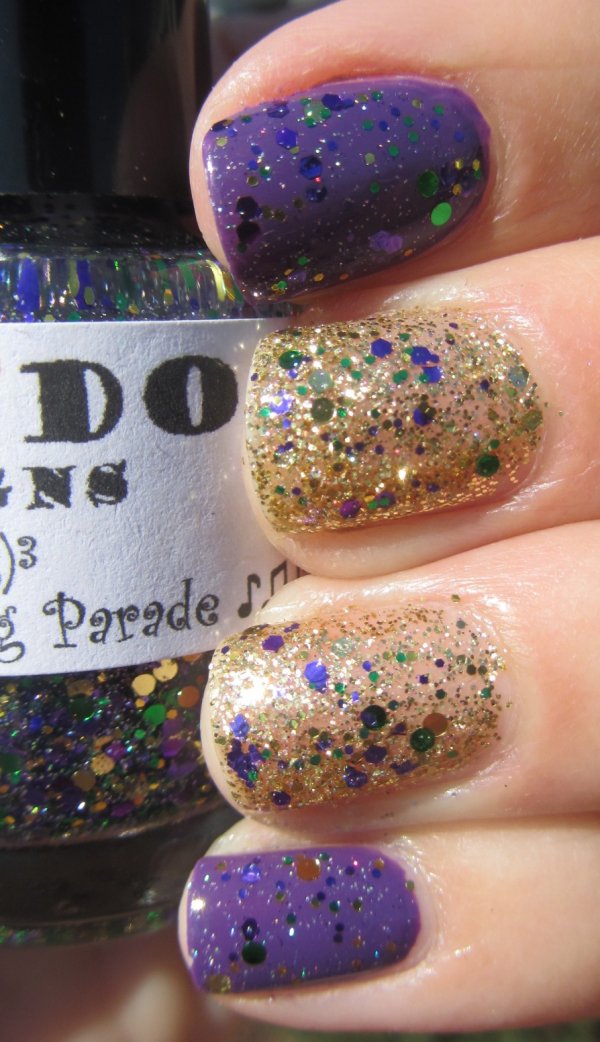 Via My Nail Polish Obsession: Fat ...
Of course, purple also makes a prime base color for your celebration too.
18

Tiny Images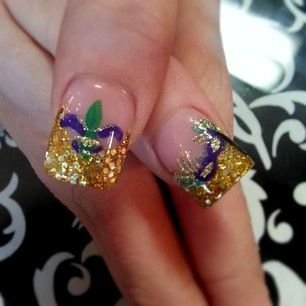 Via pinsta.me
The itty bitty fleur de lis and mask are wonderful for Mardi Gras.
19

Fleur De Lis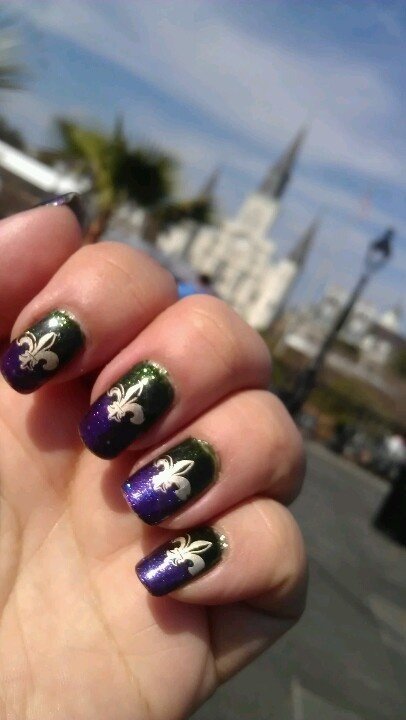 Via nails
Use nail art decals to get the look just right if you plan to repeat it on every nail.
20

Tiny Mask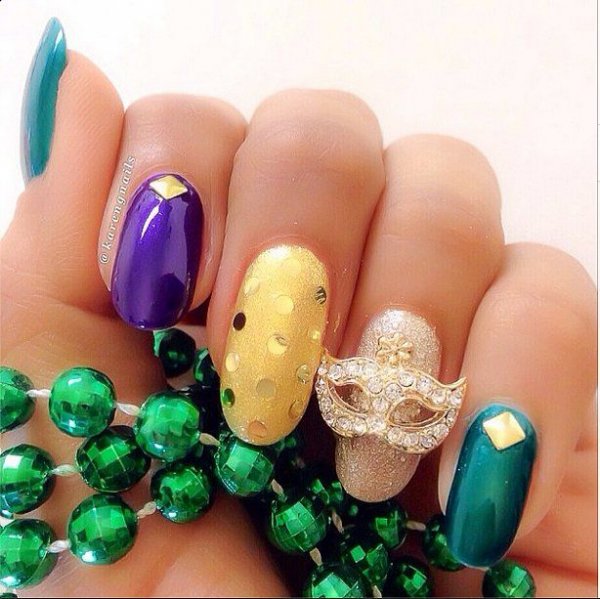 Via Karen G Nails
I don't know how that mask would stay in place, but it sure looks fantastic, doesn't it?
21

A Little Bit of Everything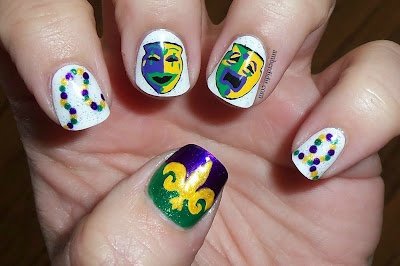 Via Amber did it!: Laissez les ...
The masks, streamers and fleur de lis combined make these an epic set of nail art.
22

Stripes Galore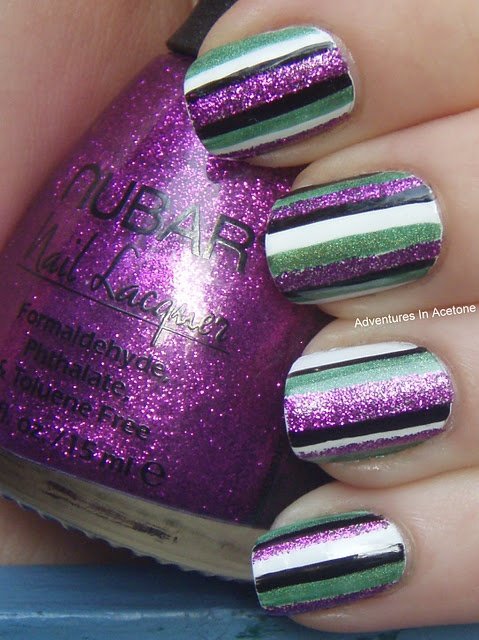 Via Adventures In Acetone
Stripes in Mardi Gras colors are super fun and really easy to paint on.
23

Lots of Masks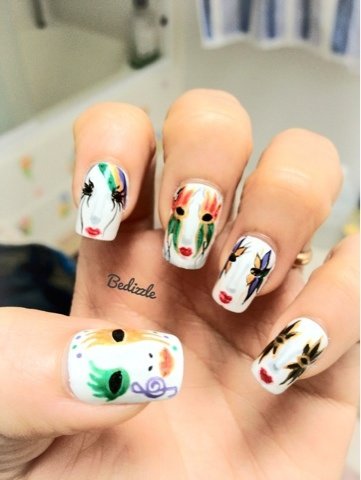 Via bedizzlenails.blogspot.co.uk
I love how each of these masks are a little bit different. I don't think I have the talent to do this, but I think it's fabulous.
24

Striping Tape Mani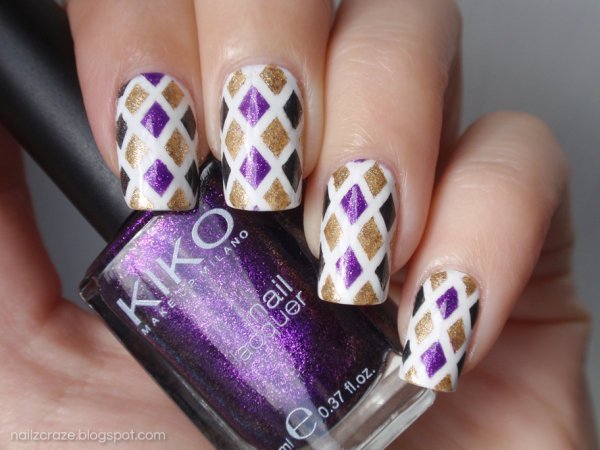 Via Nailz Craze: Striping tape mani ...
Using some thin striping tape allows you to easily create these fantastic Mardi Gras diamonds.
25

Harlequin Nails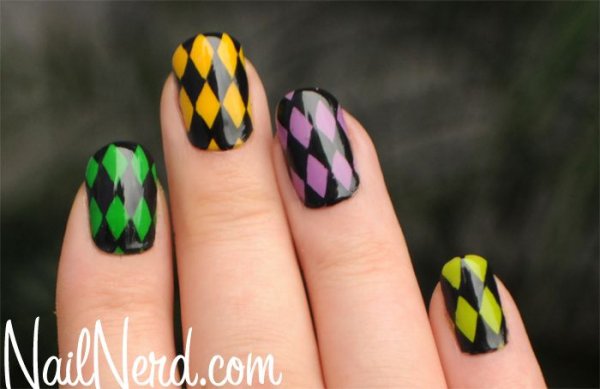 Via Nail Nerd (nail art for ...
Here's another great example of Harlequin designs for Mardi Gras. Love it!
26

Tiny Beads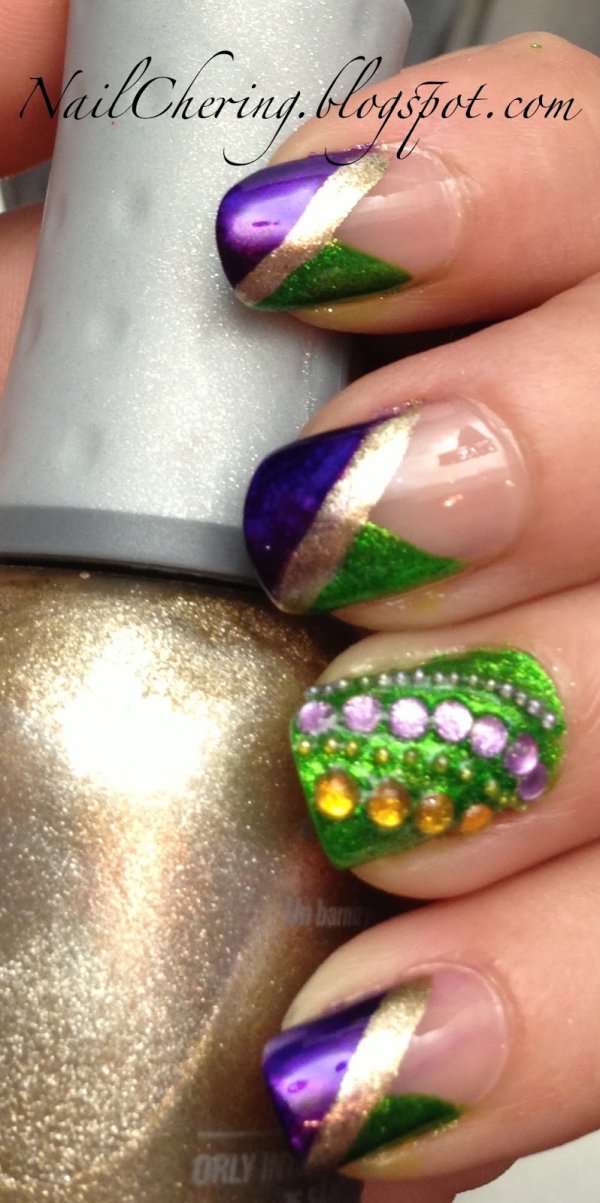 Via Nail "Cher"ing: Mardi Gras French ...
Glue tiny beads to your nails to give them some bling.
27

Mardi Gras Water Marble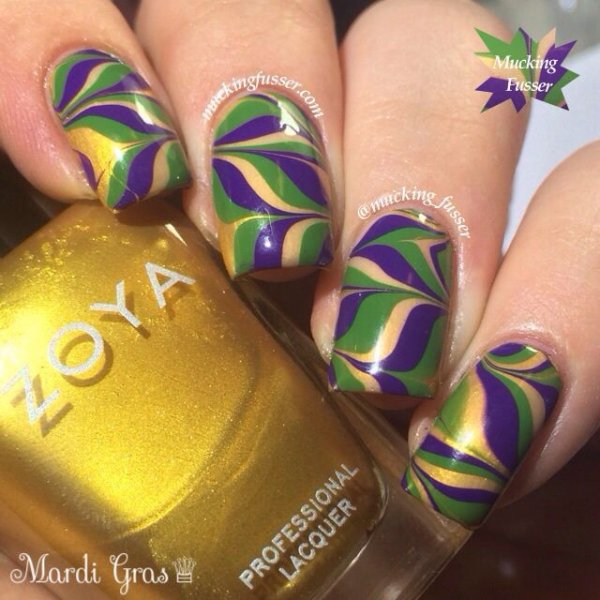 Via Mardi Gras Water Marble
You are going to love how easy this is to do and how many compliments it gets you.
28

Back and Forth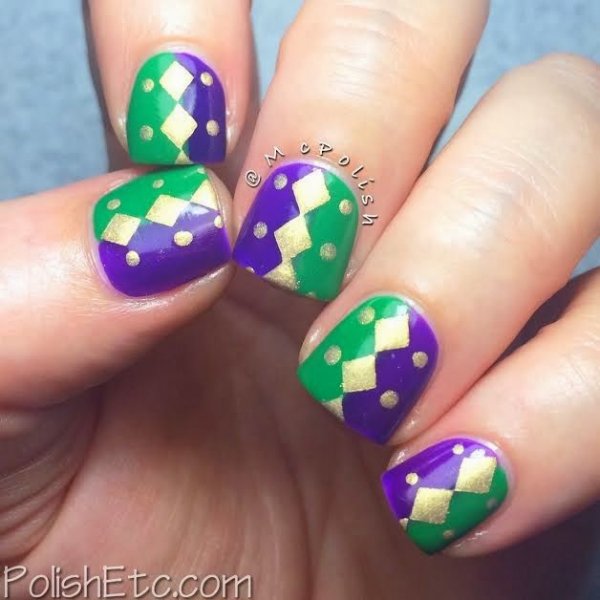 Via A Painted Nail: Guest Post ...
It's pretty cool how the color scheme alternates on each nail.
29

Match Them up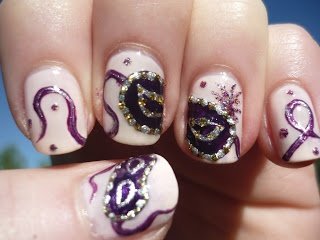 Via Juliatmll Nail Art
It's always fun to make a couple nails that create an image when they are put together.
30

Super Sparkly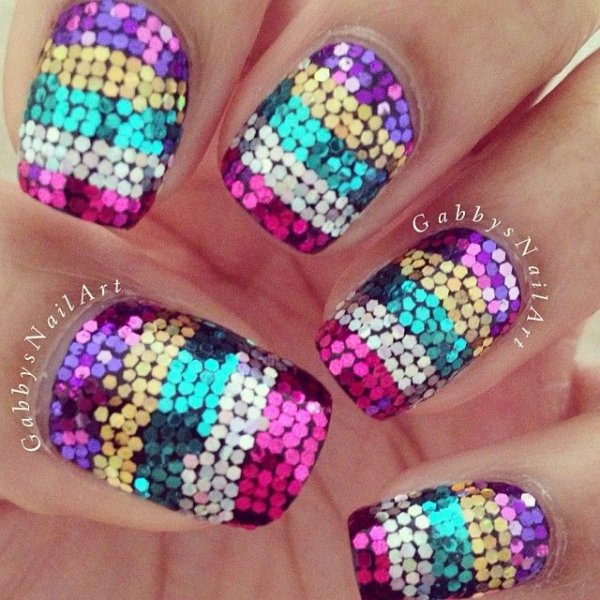 Via Acrylic nail designs, Nail design ...
There is just enough sparkle on these nails to make them perfect for Mardi Gras.
31

Mardi Gras Clouds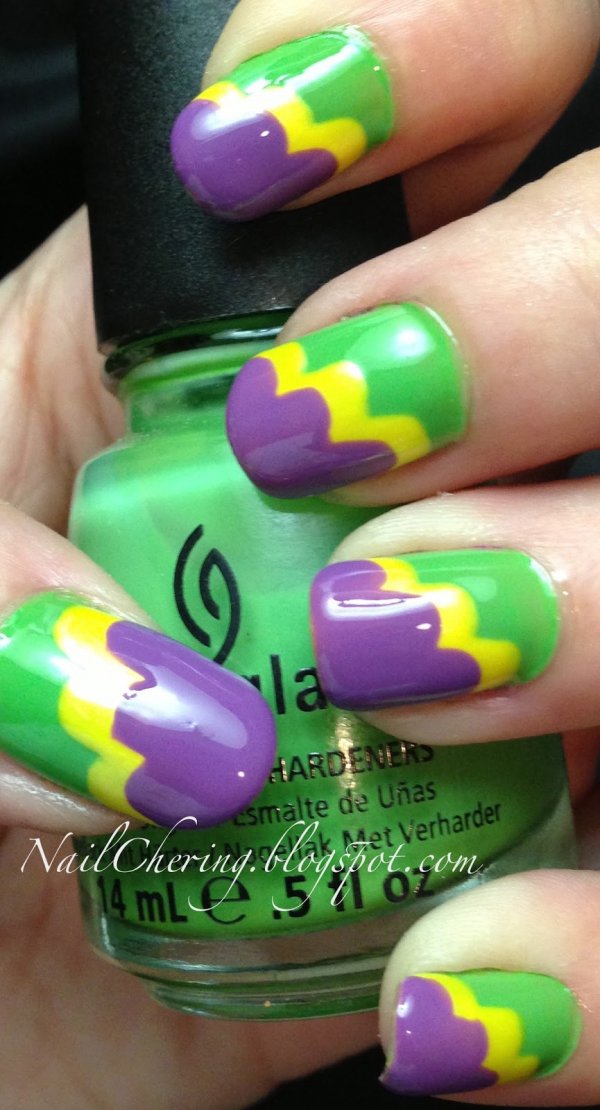 Via Nail "Cher"ing: Mardi Gras Clouds ...
This is easy, shiny and fun! What more could you ask for?
What's your plan for your nails on Mardi Gras? Aren't you excited to show them off?
Please rate this article