25 Dazzling Manicures You'll Absolutely Adore ...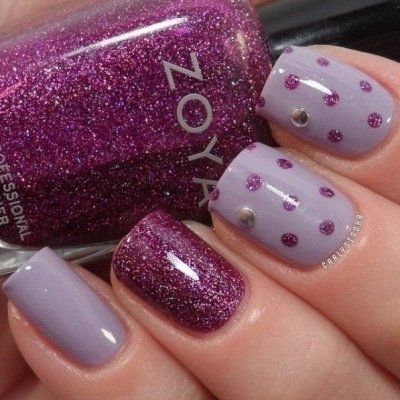 There are so many absolutely stunning and dazzling manicures that inspire me to try new things with my nails. As with anything else, we can easily get into a rut and just stick to the same old thing or what's safe, but what's the fun in that? Take a look at some of these dazzling manicures that are sure to get you excited to paint your nails again!
Via Nails
Now this is my idea of what dazzling manicures should look like! Glittery, colorful and oh so girly.
Via 50 Easy Nail Designs | ...
This is another bright and beautiful combo-bright blue and gold nail polish paired with a unique feather design on the accent nail.
3.

Leopard Print Accent Nail
Via (reg. nails)
This manicure is not for the faint of heart. You've got matte hot pink, shiny silver glitter and leopard print. So cheery and fierce!
Via Nail Art
Two of my favorite colors in one fun manicure. I am obsessed!
Via Amazing Nail Art Ideas
Just looking at these nails makes me happy! If you're feeling blue, what better way to cheer yourself up than with rainbow nails?
Via Nail Ideas | Beauty Tutorials
Fun, flirty and bright. This manicure is pretty easy so even nail art newbies should be able to recreate the look!
Via 21 Fashionable Nail Art Design ...
Whether you live by the sea or long to be closer to the ocean, the stripes, glitter and anchor design are sure to please.
Via Holidays
Celebrate 4th of July with this patriotic manicure! Try doing the flag design on just the tips or do an entire accent nail.
9.

Polka Dots and Stripes
Via Adorable Nail Art
I never thought grey and pink would make such a cute combo! Show your romantic side with pretty polka dots and stripes.
Via NAILS!!!
Dandelion tattoos and nail art are whimsy and different. This is a design that you don't often see, but looks so cool.
Via One Nail To Rule Them ...
This nail art is too cute for words! If you're in the mood to do something different with your nails, what could be more original than turtles?!
Via nails
I love chevron nails and this nail art design is just adorable. This is a great, understated manicure that's sure to turn heads.
Via Cast A Love Spell On ...
Wear your heart on your nails with this super cute and fuss-free nail art design.
16.

Black and White Nails
Via Top 10 Most Wanted Nail ...
So chic! I love this black and white manicure that only requires two nail polishes and no special tools!
17.

Disney Princess Nails
Via Nail Pornography
Obviously super cute and an absolute must-do for all Disney princess fans.
Via Uñas
If you have some hole reinforcement stickers left over from your half moon mani, be sure to use them to paint some owls on your nails next.
Via fbcdn-sphotos-e-a.akamaihd.net
This is a really cute twist on the French manicure. Light green tips with flower accents on each nail is perfect for spring or summer.
20.

Rainbow Leopard Nail Art
Via Nails, Nails, Nails Oh! Cheetah ...
If you want your nail art to reflect your fun and bright personality, rainbow leopard is the way to go.
Via ƸӜƷ Nails ƸӜƷ
This modern twist on neutral nail polish is stylish and clever. It just goes to show that glitter looks good with darn near everything.
Via Verano con un toque de ...
I love, love, love the slight gradient effect on the middle finger and the glitter nail polish on the ring finger. Cute and colorful.
Via bloglovin.com
If you liked the galaxy nails, you're going to love constellation nails. This manicure is unique and a sure conversation starter.
Via Stunning Nail Art Tutorials and ...
Half moon nails are another majorly chic nail art design that you can easily recreate at home. Just get some hole reinforcements or free-hand it and admire your design!